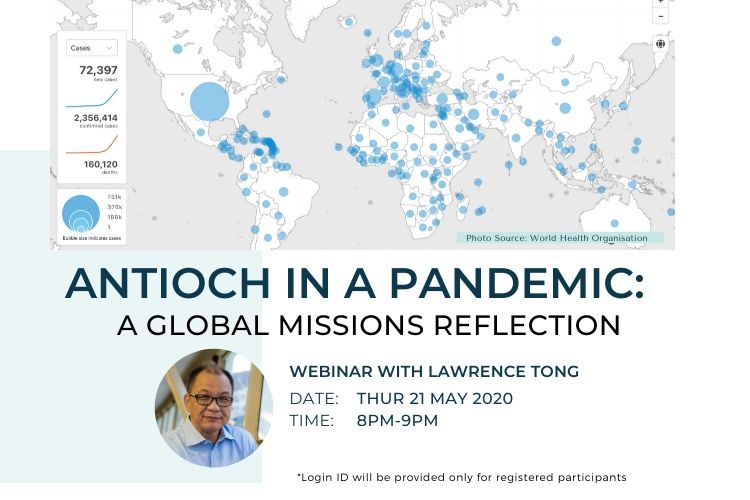 ANTIOCH IN A PANDEMIC: GLOBAL MISSIONS REFLECTION
Lawrence Tong is Operation Mobilisation's International Director based in Singapore. A visionary leader, he is committed to fostering innovation in world missions. Lawrence is also a compelling storyteller who inspires many people to pray, give and go.
Lawrence Tong was appointed the International Director of Operation Mobilisation (OM) in 2013. Lawrence's spiritual journey began with a commitment to Jesus Christ at an evangelistic meeting in 1973. He visited the OM ship, Logos, in Singapore in 1974 and subsequently joined the ministry team on OM's second ship, Doulos, in 1978.
Lawrence graduated from Biola University (Southern California) with a degree in Communications where he also served as Summer Missions Director of the Student Missionary Union.In 2019, Lawrence was conferred a Doctor of Divinity degree by Biola University in recognition of his visionary leadership and contributions to global missions. Lawrence also holds a Master's degree in Business Administration from the University of LaVerne (California).
Lawrence's leadership journey has included serving on the Board of OM Singapore, as OM country leader for Taiwan, as Director of OM's third ship, Logos II as well as in financial development with the OM Ships office in Florence, South Carolina. Lawrence is also recognized to have led the fast-growing work of OM in China with a significant focus on welfare and agricultural programmes which have won them recognition from the Chinese government.
"I am a debtor to the OM heritage that has shaped my life and ministry," shares Lawrence. "My heartbeat is to encourage OM to remain true both to the Gospel and to our core values as we seek with passion to bring hope to the lives of people worldwide. For my part, I will continue to strive to give back to OM what the Lord has given to me, so that I—and we together, our generation of OMers—may be even more worthy of His calling."
Lawrence is married to Susan, from the United States, and they have two grown sons, Joshua and Benjamin.
*Zoom link & Passcode will be provided only for registered participants. 

Registration closes on Monday, 18 MAY 2020 @ 8:00pm.
SCGM will email participants the log-in details 3 days before the event. If you do not receive the email by 6:00pm (SGT) on Monday 18 May, please check your spam/junk folder, or drop us an email at [email protected].
---
In light of the COVID-19 circuit breaker measures, SCGM will explore various digital means to conduct our events and continue to serve our local churches in missions.