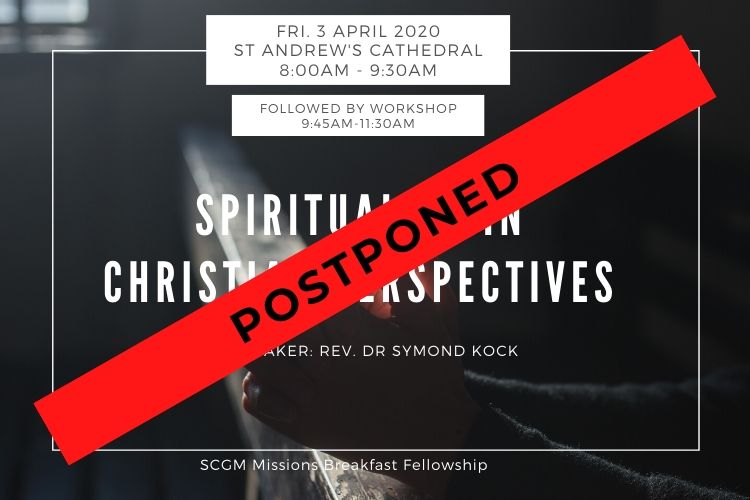 SCGM MBF Apr 2020 | Spirituality in Christian Perspective (POSTPONED)
Dear Friends,
With the recent developments on COVID-19 situation and closure of St. Andrew's Cathedral, we regret to inform that the SCGM Missions Breakfast Fellowship with Rev. Dr Symond Kock has been postponed until further notice. We will be keeping in view of every progress and comply with the necessary measures to ensure everyone's health and safety during this period.
Thank you for understanding and for your continuous support towards SCGM events. We look forward to hosting you again at our next gathering, so do look out for our updates!
In the meantime, please stay healthy and remain steadfast in the Lord as we continue to uphold our nation and the nations of the world in prayer – let faith arise!
---
What is 'spirituality' in Christian sense? What is the core of spirituality, its historical development and the contemporary idea that is painted today? Join Rev. Dr Symond Kock as he shares a glimpse of the Western and Asian picture of spirituality in the Christian perspectives.
This breakfast talk will be followed by a workshop on "Asian Spirituality: A Chinese Person as a Type of Asian Spirituality". Please feel free to join us after the talk as the speaker unpacks and helps us to understand Psalm 8:4 and spirituality as a Chinese Christian (through family ties, social-ethical relations and cultural linkage).
Speaker
REV. DR. SYMOND KOCK
Rev. Dr Symond Kockis a retired lecturer of Trinity Theological College, a Minister of Word and Sacrament of the Presbyterian Church. "Active moment doing what I am, non-active moment thinking who am I. Soon I will be neither."