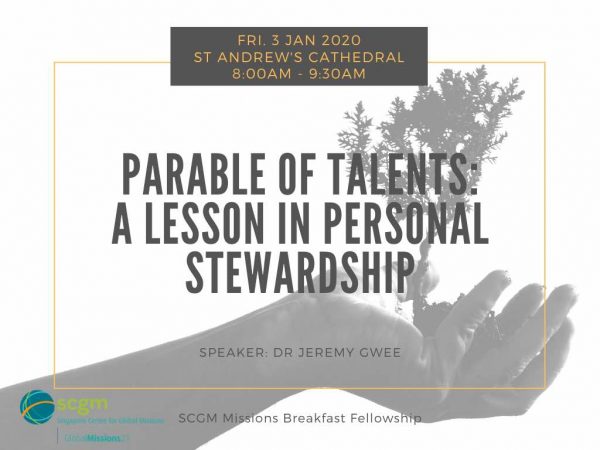 SCGM MBF Jan 2020 | Parable of Talents: A Lesson in Personal Stewardship
"God the Creator chooses to become dependent on the human helping hand and makes work a means of accomplishing His work in the world" (Miroslav Volf) and so God made us unique, complex and for His purpose (Psalms 139:13). Knowing your uniqueness is knowing the talents that God has given to you to accomplish His work in the world; and as you multiply your talents through knowledge and skills, you will make a difference to those who engage with you. Knowing your talents and multiplying your talents is the beginning of personal stewardship.
Speaker:
DR JEREMY GWEE
Dr. Jeremy Gwee is Managing Principal of the Institute of Training and Occupational Learning, Asia Pte Ltd. He also represents Bakke Graduate University in Asia. Prior to his current role he was in banking and financial services for 38 years.
FREE ADMISSION  |  BREAKFAST INCLUDED
Registration Link:
http://tinyurl.com/SCGM-MBFJan2020
Kindly sign up early for catering purposes.
---
The SCGM Monthly Breakfast Fellowships are graciously sponsored by Salem Chapel and St Andrew's Cathedral.
Every effort has been made to ensure the accuracy of this brochure and all details were correct at the time of publication.  Information shown are subject to change without notice.
Please note that with the reduction of Carparking Rates at the Cathedral, complimentary passes will no longer be issued.
Cathedral Carpark Charges
Monday – Saturday
6 am – 6 pm:
$2.80 for first hour or part thereof;
$1.40 per subsequent half hour or part thereof