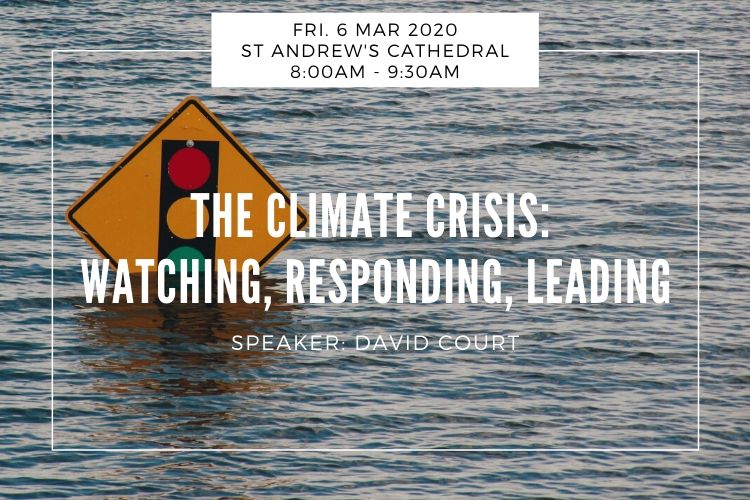 SCGM MBF March 2020 | The Climate Crisis: Watching, Responding, Leading
Old Jerusalem city had gate-keepers who kept watch. Now the world's gate-keepers includes scientists who have raised an alarm. The speaker presents evidence of the climate crisis and reasons why we should all be concerned and become involved.

David J Court was born in Australia and grew up with his family in New Zealand. He attended the University of Auckland, New Zealand, where he graduated with a Master of Science (Hons.) degree, majoring in Botany. He then gained a Diploma of Teaching at the Auckland Teachers College and taught Science and Biology in New Zealand (8 years) and in Papua New Guinea (6 years). From 1991 to the end of 2006 he taught Science and Biology (Gifted Education Programme), at Raffles Institution, Singapore. He was a coordinator of the Science Mentorship Programme led by the Gifted Education Branch, Ministry of Education, which linked gifted pupils from Raffles Institution to a number of tertiary institutions. During this time, as an Adult Scout Leader, he led the 02 Raffles Scout Group. Since 2007, he has been working as an Honorary Research Affiliate with the Lee Kong Chian Natural History Museum of the National University of Singapore; his research topics include the taxonomy and conservation of spiders. He contributed to "Singapore Biodiversity: An Encyclopedia of the Natural Environment and Sustainable Development" and co-authored "Spider Diversity in the Bukit Timah Nature Reserve, Singapore", part of the recent Biodiversity Survey of Bukit Timah conducted by the National Parks Board. He is a Lay Leader at St James' Church, Leedon Avenue, and is married to Annie, a Singaporean.
FREE ADMISSION  |  BREAKFAST INCLUDED
Kindly sign up early for catering purposes.
In view of the current Disease Outbreak Response System Condition (DORSCON) at orange level and existing measures being implemented, we would like to issue a gentle notice and reminder:
1.     We will be conducting our temperature screening and travel & health declaration exercise at the point of on-site registration and prior to entering our event premises.

2.     If you are exhibiting flu-like symptoms or feel unwell generally, do stay home to rest and fully recover before joining us again.

3.     We seek your cooperation to observe personal hygiene when consuming food and drinks with us and to use the hand sanitiser, food tongs and personal cutlery provided.

4.     In line with the travel advisory released by the Ministry of Health, we request for those who have visited or just returned from Iran, northern Italy, Republic of Korea or mainland China to exercise due consideration for minimal public contact under a self-imposed quarantine or the Stay-Home Notice for a period of 14 days, starting from the first day of your return.

5.     SCGM will continue to watch the situation and update our events according to existing and future measures to be implemented.
The SCGM Monthly Breakfast Fellowships are graciously sponsored by Salem Chapel and St Andrew's Cathedral.
Every effort has been made to ensure the accuracy of this brochure and all details were correct at the time of publication.  Information shown are subject to change without notice.
---
Please note that with the reduction of Carparking Rates at the Cathedral, complimentary passes will no longer be issued.
Cathedral Carpark Charges
Monday – Saturday
6 am – 6 pm:
$2.80 for first hour or part thereof;
$1.40 per subsequent half hour or part thereof