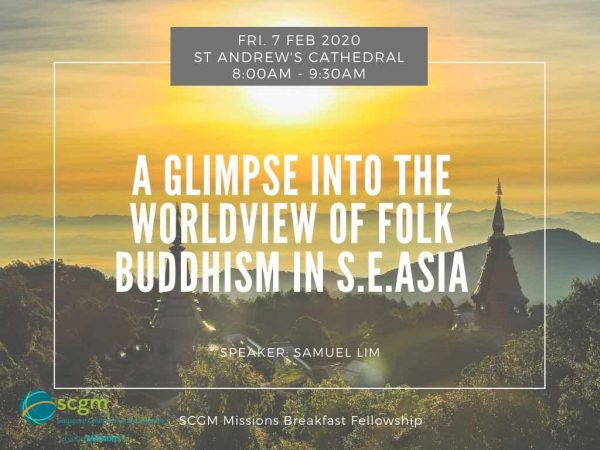 SCGM MBF Feb 2020 | A Glimpse Into the Worldview of Folk Buddhism in SEA
This session will give you a brief overview to the intricate world of folk Buddhism in S.E. Asia and the relevance of the Gospel in engaging this worldview.
The session will be followed by a presentation of the National Missions Survey 2019 results and focus group discussions pertaining to ministries among the Thais, Cambodians, Lao and Myanmar. Please feel free to join us after the talk from 10:00 to 11:30am as we learn from our local mission leaders, pastors and practitioners the best practices of their mission in these region.
Speaker:
SAMUEL LIM
Sam Lim is a Singaporean with OMF International, serving as the Regional Facilitator for Southwest Mekong. Sam and his family are based in Chiang Rai, involved in church-planting amongst the Northern Thais. A graduate from Singapore Bible College, Sam also spent some time studying Buddhism in Sri Lanka and is passionate in research and helping others understand the Buddhist world in South East Asia.
FREE ADMISSION  |  BREAKFAST INCLUDED
Kindly sign up early for catering purposes.
---
NOVEL CORONAVIRUS ADVISORY
In view of the current Novel Coronavirus Pneumonia situation and measures already implemented, we would like to issue a gentle notice and reminder:
If you are exhibiting flu-like symptoms or feel unwell generally, do stay home to rest and fully recover before joining us again.
We seek your cooperation to observe personal hygiene when consuming food and drinks with us and to use the common food tongs and cutlery provided.
In line with the recommendations by the Ministry of Health, we request for those who have visited or just returned from China up until 2 February 2020 to adopt the advisory on self-imposed quarantine for a period of 14 days, starting from the first day of your return.
SCGM will continue our events and activities with appropriate precautions as required.
---
The SCGM Monthly Breakfast Fellowships are graciously sponsored by Salem Chapel and St Andrew's Cathedral.
Every effort has been made to ensure the accuracy of this brochure and all details were correct at the time of publication.  Information shown are subject to change without notice.
Please note that with the reduction of Carparking Rates at the Cathedral, complimentary passes will no longer be issued.
Cathedral Carpark Charges
Monday – Saturday
6 am – 6 pm:
$2.80 for first hour or part thereof;
$1.40 per subsequent half hour or part thereof