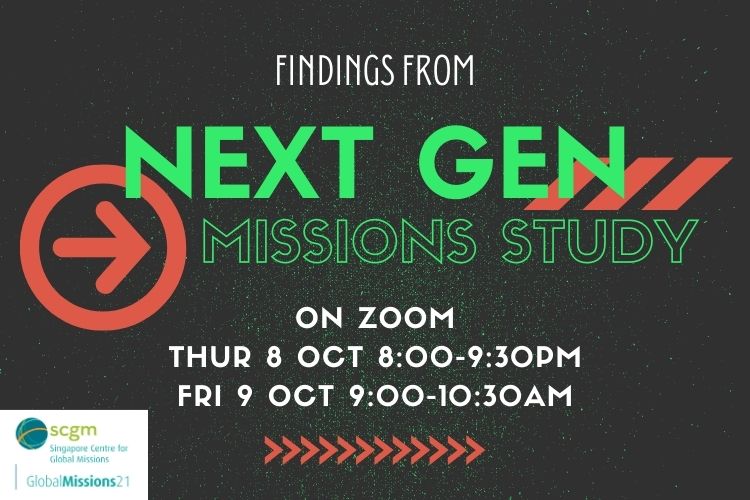 NEXT GEN MISSIONS STUDY
SCGM conducted the National Missions Study in 2019, where one of the key findings concerned the "ageing" missions force. Since then we embarked on the Next Generation Missions Study ("Next Gen Study"), with a focus on addressing how churches can better mobilise, prepare and send young people for global missions.
We are pleased to share the findings of the Next Gen Study, and also launch a learning journey so that church missions leaders can learn together in community for long-term change.
The Next Generation Missions Research Project is an initiative conducted by Singapore Centre for Global Missions, in partnership with: Bartley Christian Church, Church of our Saviour, Covenant Evangelical Free Church, Glad Tidings Church, Interserve Singapore, OM Singapore, OMF Singapore, Radion International and Woodlands Evangelical Free Church.
Choose to attend one of these sessions:
THURSDAY, 8 OCTOBER 2020
8:00pm-9:30pm
OR
FRIDAY, 9 OCTOBER 2020
9:00-10:30AM
*Registration closes at 11:59pm on Tuesday 6 October 2020.