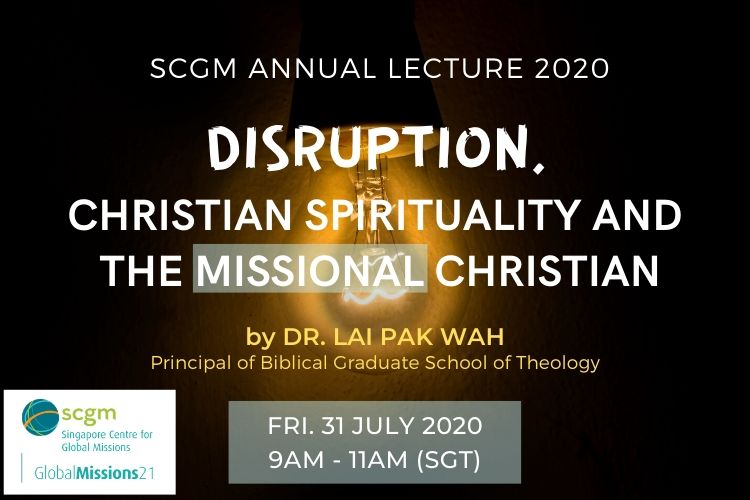 SCGM ANNUAL LECTURE 2020
DISRUPTION, CHRISTIAN SPIRITUALITY AND THE MISSIONAL CHRISTIAN
Throughout history, the people of God have experienced disruptions of all kinds – migration, war, famine, pandemics and even technological shifts. In face of these challenges, they have sometimes faltered, while on other occasions thrived and prospered. What spiritual principles and habits can we learn from them as we seek to fulfil God's mission in our uncertain world?
PRINCIPAL of Biblical Graduate School of Theology
Dr Lai Pak Wah is lecturer of Church History and Historical Theology at BGST. A graduate from BGST (Grad Dip CS) & Regent College, Vancouver (MCS, ThM), Pak Wah completed his PhD at Durham University, where he specialised in Christianity in Late Antiquity (the history, theology and spirituality of the 2nd – 5th century church fathers, also known as Patristic Studies). Pak Wah has publicised articles and chapters on John Chrysostom's preaching, soteriology and Trinitarian doctrine. He is also author of The Dao of Healing: Christian Perspectives of Chinese Medicine. Previously, Pak Wah was a full-time lecturer at the School of Business, Singapore Polytechnic, and engaged in investment promotion work with the Singapore Economic Development Board. 
*Zoom link & password will be provided only for registered participants.
Registration closes on Tuesday, 28 JULY 2020 @ 8:00pm.
SCGM will email participants the Zoom link & password 2 DAYS before the event. If you do not receive the details by 6:00pm on WEDNESDAY 29 JULY 2020 (SGT), please check your spam/junk folder, or drop us an email at [email protected].
---
In light of the COVID-19 circuit breaker measures, SCGM will explore various digital means to conduct our events and continue to serve our local churches in missions.