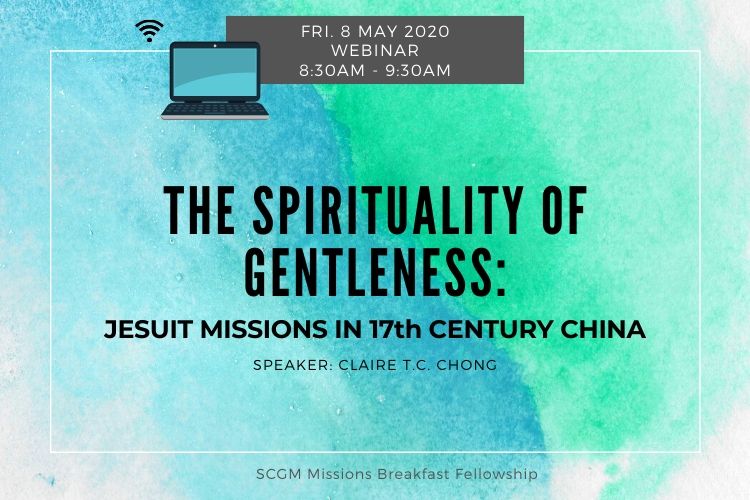 SCGM MBF May 2020 | The Spirituality of Gentleness
Epieikes (gentleness) doesn't mean being a 'softy'. It means not insisting on the letter of the law and imposing own standards, but being reasonable, accommodating and gracious. And this kind of gentleness should characterise the way we do evangelism and missions. Sharing from the Il Modo Soave (The Gentle Way) mission approach of the Jesuits in 17th century China, the talk presents four ways in which we can represent Jesus in gentleness and respect.
Speaker:
CLAIRE T.C. CHONG
Claire lived in Cambodia as a missionary for 15 years. Her present work, as an associate staff with SCGM and a research scholar with Oxford Centre for Mission Studies (UK), focuses on faith-culture engagement and contextualised Christian expressions, with special interests in Asian rituals and Theravada Buddhism. She is a member of Trinity Methodist Church, together with her husband Dr Kevin Lowe and three children.
*Meeting ID and Passcode will be provided only for registered participants.
Feel free to bring your own breakfast and join us online! 
---
This talk is an excerpt taken from Claire's research paper entitled "The Gentle Way" of 16th – 18th Century Jesuit Missionaries recently published in 2020 SEANET Series Vol. 16. 
BOOKS ARE SOLD AT S$25 EACH
(Excluding postage fee)
OTHER TITLES FROM SEANET SERIES
---
In light of the COVID-19 circuit breaker measures, SCGM will explore various digital means to conduct our events and continue to serve our local churches in missions.