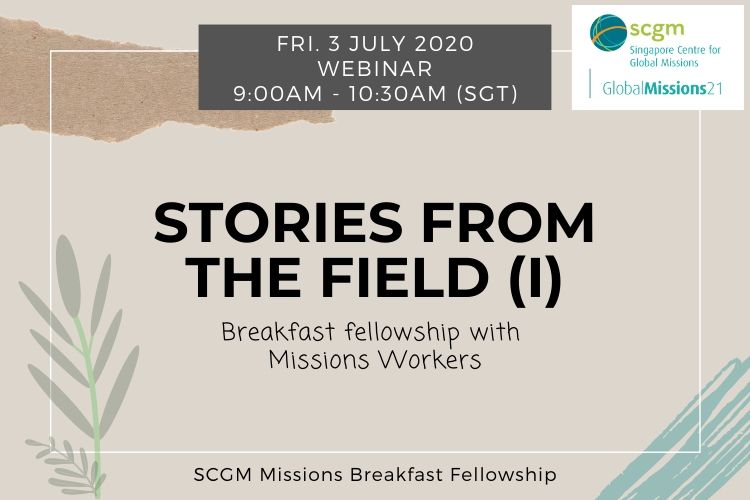 SCGM MBF July 2020 | Stories From the Field (I)
We have invited missions workers to join us in this series of Stories From The Field to share their personal journey in preparation to go into their respective missions fields. In the first of this 2-part series, 3 of them will be sharing their own stories from the field and how they have discerned God's call in their missionary journey. Some have just returned, while others are still serving on the ground. Read their biography and tune in for an up-close interaction with our guests! 
There will be an opportunity for participants to interact closely with the speakers in break-out rooms at the end of the sharing session. As part of our due diligence and obligation to observe the security of our missions workers, please indicate your interest to join this programme segment when you register.
ONLY registered & interested participants will be admitted into the break-out rooms.
*Zoom link & password will be provided only for registered participants.
Registration closes on Tuesday, 30 June 2020 @ 8:00pm.
SCGM will email participants the Zoom link & password 2 DAYS before the event. If you do not receive the details by 6:00pm (SGT) on Wednesday 1 JULY 2020, please check your spam/junk folder, or drop us an email at [email protected].
Feel free to bring your own breakfast and join us online! 
---
In light of the COVID-19 circuit breaker measures, SCGM will explore various digital means to conduct our events and continue to serve our local churches in missions.