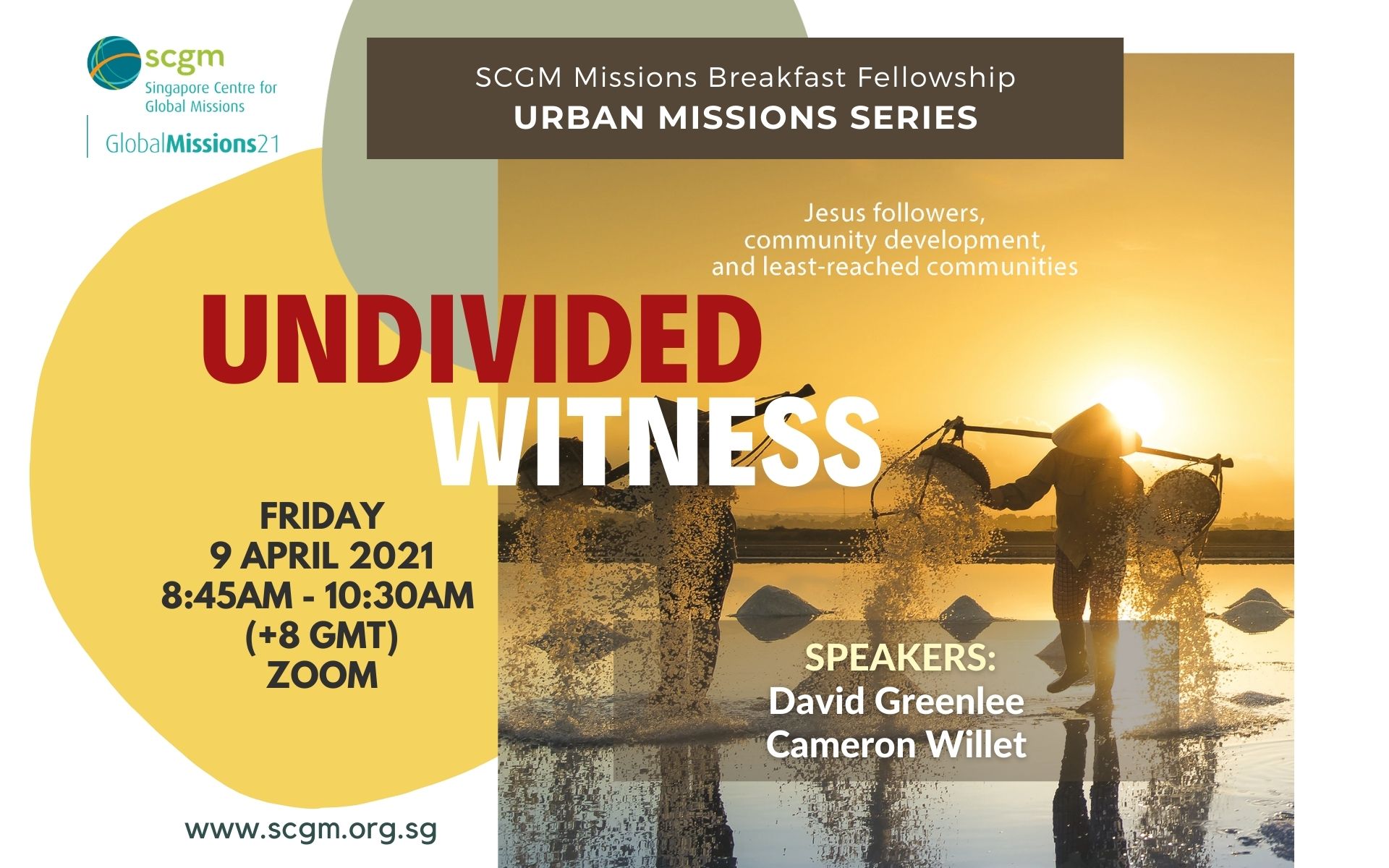 UNDIVIDED WITNESS
Undivided Witness is a written publication which presents ten key principles linking community development and the emergence of vibrant communities of Jesus-followers among the 'least reached'. This April, SCGM invites David Greenlee (author of this book) and Cameron Willett, to share about the best practices of community development drawn on decades of serving and learning among communities in Africa, the Middle East, Europe, and South, Central and Southeast Asia – and their journey towards transformation.
"Drawing on the experience and expertise of community development practitioners, Undivided Witness highlights the Kingdom of God, best practice and taking the shalom of God to the least reached. A refreshing polyphonic symphony of voices from around the world runs throughout."

– Peter Tarantal, Associate International Director, OM;
Chair, World Evangelical Alliance Mission Commission.
DAVID GREENLEE (AUTHOR)
USA Operation Mobilisation's Director of Missiological Research and Evaluation
David Greenlee was raised of missionary parents in South America and has served with Operation Mobilization since 1977. After many years with OM's ships Logos, Logos II, and Doulos he oversaw OM's ministries in North Africa from 1994-1998. Since 1998 he has served in a role now titled Director of Missiological Research and Evaluation. David received the PhD in Intercultural Studies from Trinity Evangelical Divinity School in 1996 and is the author or editor of several books and articles, including From the Straight Path to the Narrow Way: Journeys of Faith and One Cross, One Way, Many Journeys: Thinking Again about Conversion (Authentic/IVPress) and Longing for Community: Church, 'Ummah' or Somewhere in Between? (William Carey). David and his wife, Vreni, have three adult children; they reside near Atlanta, USA.
CAMERON WILLETT
USA Operation Mobilisation's Director of Field Relations


Cam and his wife of 20 years, Ruth, have two children, ages 15 and 10. Cam was raised in Zambia, and then lived in Scotland and Sweden, in each for 15 years. His educational background includes a HND in Agriculture, a BSc in Agricultural Economics (hons) and a BA in Theology. He has worked for African Evangelical Fellowship (Now SIM), McConnell Salmon (Outer Hebrides Scotland), The Southwestern Company (Nashville Tennessee), Grampian Country Food Group (Aberdeen, Scotland) and Operation Mercy, a partner of OM, and has been with OM USA for 4 years. He was Associate International Director for Operation Mercy. Now, for OM USA, Cam helps to ensure a good connection between the fundraising process in the USA and the OM fields, as well as being responsible to connect with 38 major donors. He oversees the Self Help Group Approach project in OM across several countries and co-founded the Engage Training and Coaching course that is being rolled out across OM fields.
Registration closes on Wednesday, 7 APRIL 2021 @ 8:00pm.
SCGM will email participants the Zoom link & password 2 DAYS before the event. If you do not receive the details by 23:59 on WEDNESDAY 7 APRIL 2021 (SGT), please check your spam/junk folder, or drop us an email at [email protected].
---
During the COVID-19 pandemic season, SCGM will explore various digital means to conduct our events and continue to serve our local churches in missions. We will work gradually towards physical gatherings only as far as they are permissible, as Singapore eases into Phase 3 in year 2021.