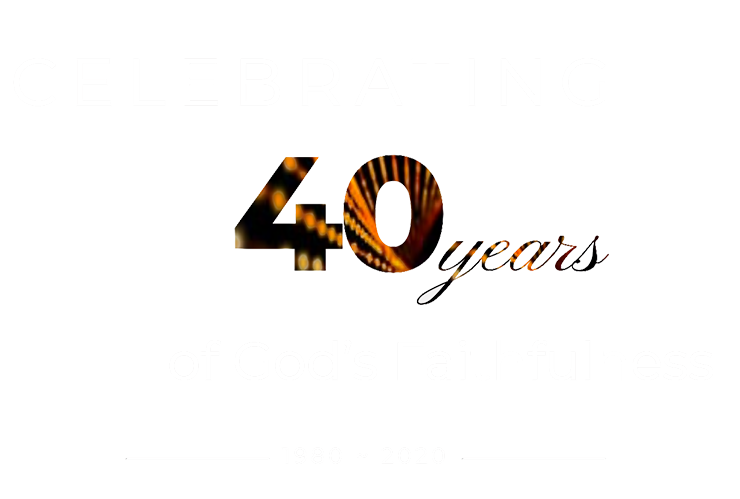 Support Us
in our efforts to raise $400,000!
8 January 2021 - 16 February 2021
40 DREAMS UNDER 40
CHAMPION:
Ng Zhi-Wen
40 young voices have been invited to take part in our 40 Dreams Under 40 campaign to help raise funds for SCGM's 40th Anniversary. Each day from 8 January 2021 to 16 February 2021, SCGM will feature one Next-Gen under 40 sharing his/her heart for the Church in Singapore in Global Missions. Their hopes express our aim to see the next generation rise up, be involved and even lead for global missions in the next 40 years and beyond!
Come alongside us and support a Next-Gen Dream for Global Missions!
$5,170 of $40,000 Raised 13%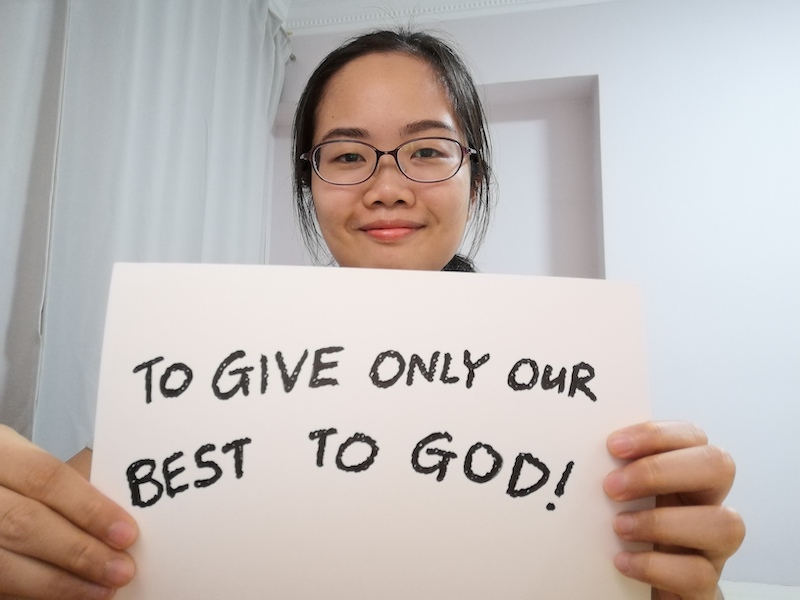 #40+2
"To the church leaders: Send our best workers to the field! - Prepare them to be phy/emotionally & spiritually strong, let them be equipped and well trained! To the ones who are going out: Give God the best years of your life! When you are still preparing to go, learn all you can! To the church body: Cover them in prayer! Take good care of your mission workers!"
- Sara
Sara is currently preparing to go on long-term missions in Asia.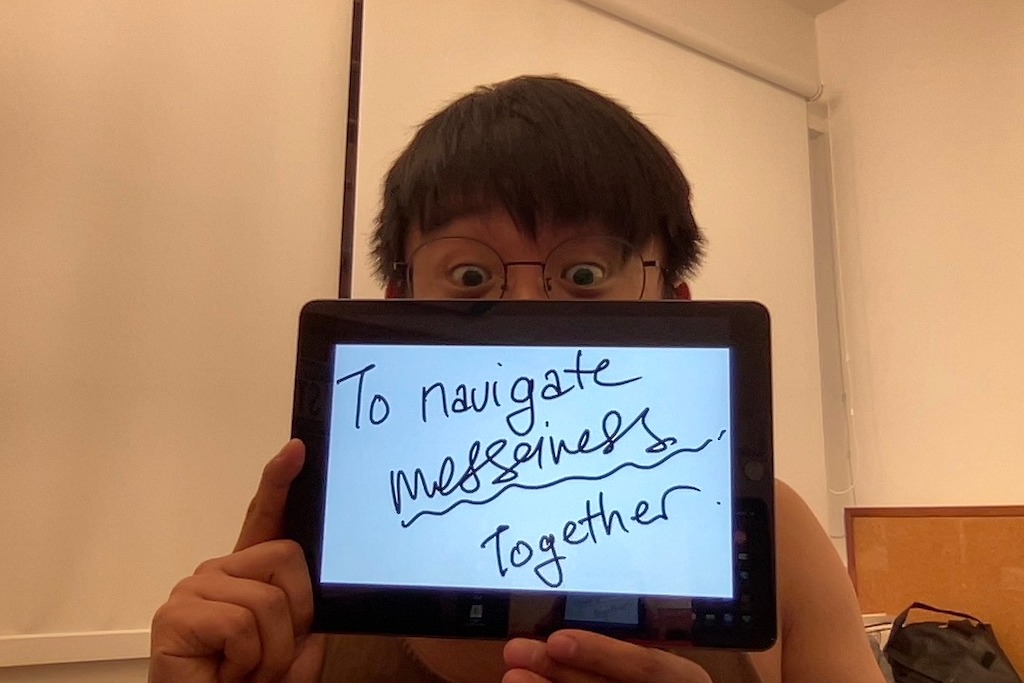 #40+1
"We can expect the future of global missions to be messy, as issues are increasingly more V.U.C.A. (volatile, uncertain, complex, ambiguous). More than ever, we need to band together, even without all the answers, to navigate messiness together."
- Kenneth Heng
Kenneth runs Solve n+1, an organisation that facilitates social innovation for vulnerable communities.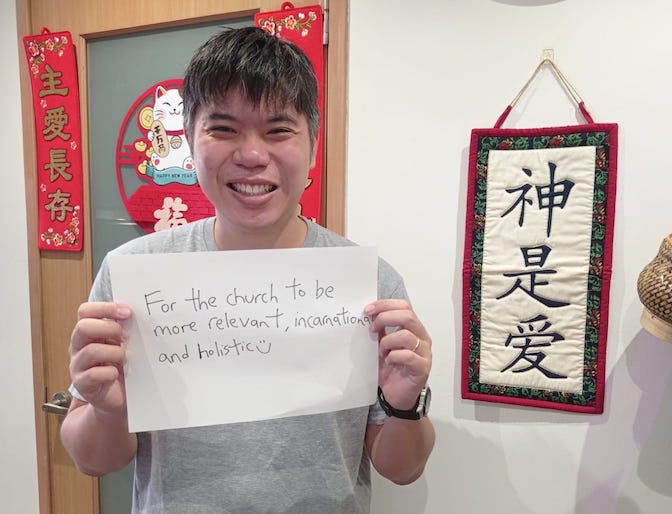 #40
"For the church to be more relevant, incarnational and holistic."
- Jonathan Kong
Jonathan is a pastoral staff in Wesley Methodist Church. He is passionate about Business As Missions, missions in Thailand and Integral Missions.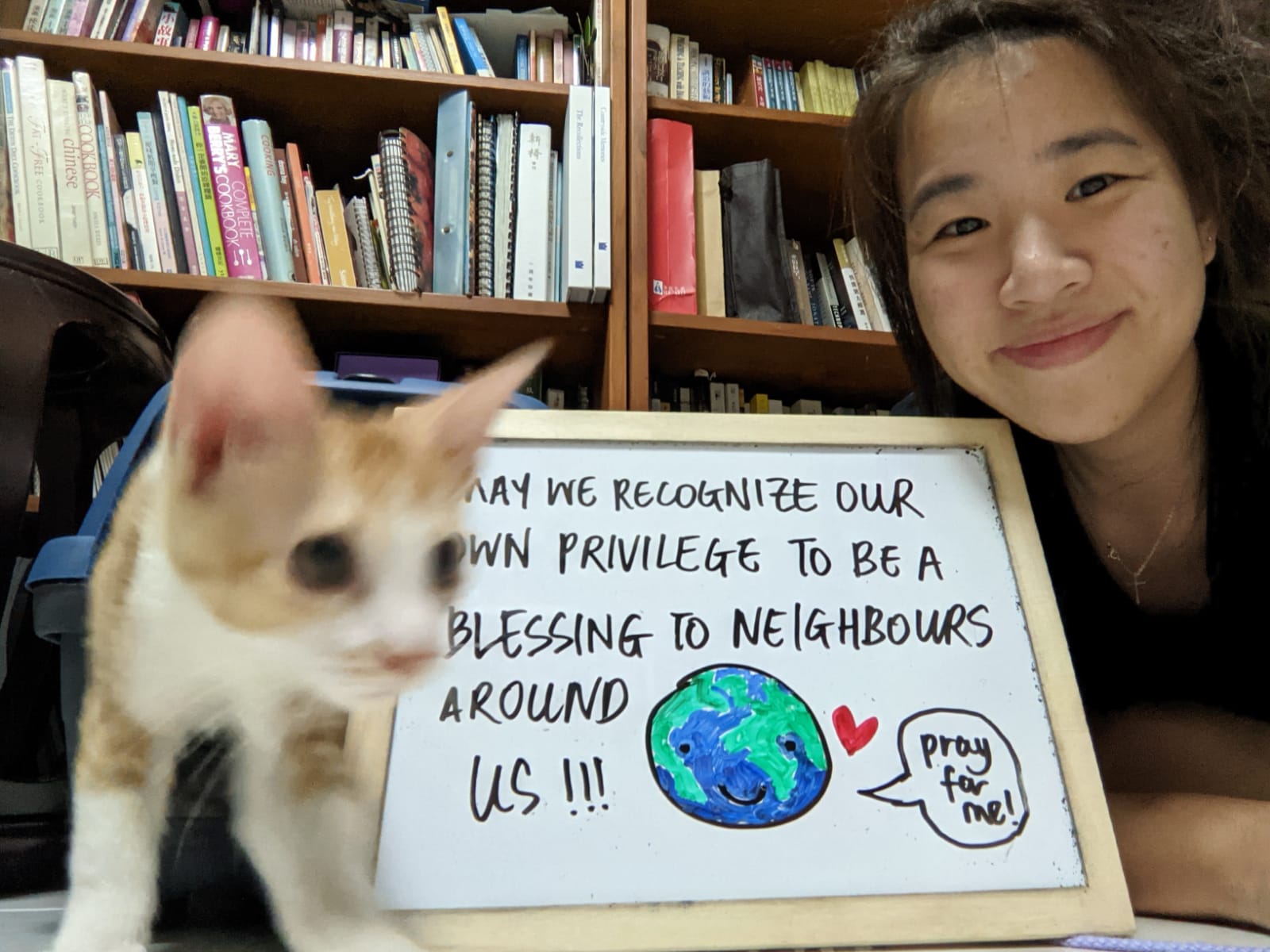 #39
"My hope for the Church of Singapore is for our eyes to be opened wider to the privilege and blessings we have as a Nation that we may actively and PRAYERFULLY move from our own comfort to compassion for our neighbours! I personally hope young people too will lean into God's love and power, to trust that small acts of giving, going or even just praying will count for more than we can see 🙏🏻"
- Thelma Chia
Thelma is a Year 3 student in NUS learning to love and understand what God's mission means to her 🙂 never too early or too late to begin to seek His will for the Church!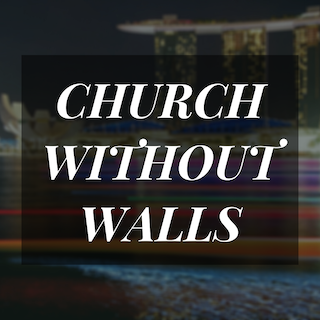 #38
"I dream of a day when church is no longer confined to a specific time, space, nor activity. A day when the church makes a difference in every sphere of life. A day when the church is synonymous with a people with outstretched arms: in pursuit of God and in ready embrace for others. A day when the demographics of the church reflects the demographics of our society in age, race, social status etc. A church without walls, a church reflective of Christ."
- Timothy Eu
Tim is the Senior Pastor of Calvary Assembly of God.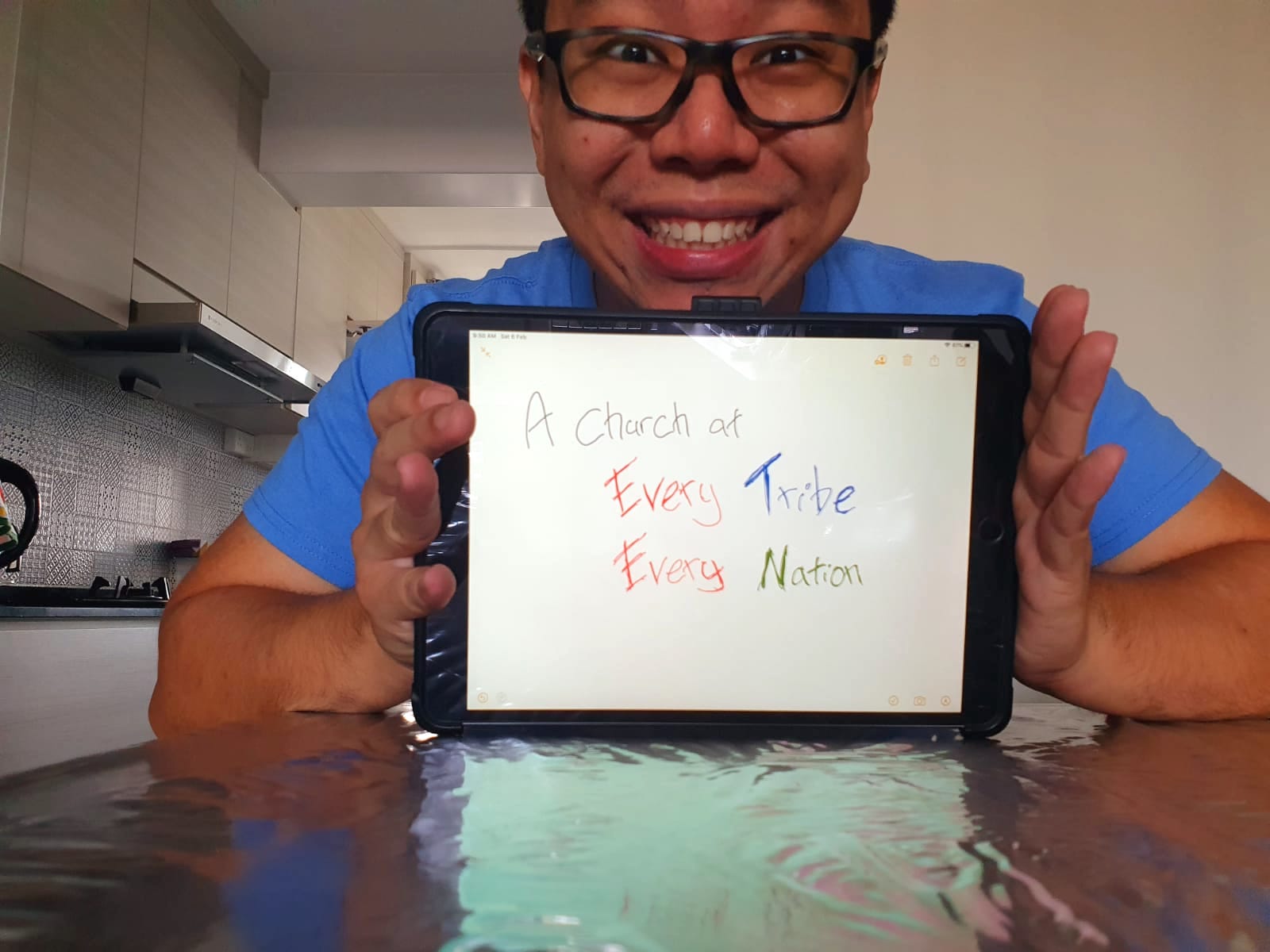 #37
"My vision to see that every tribe in every nation to have a church near them so that they can be reached and grow in maturity in God."
- Amos Chen
Amos is a student that has a heart for mission.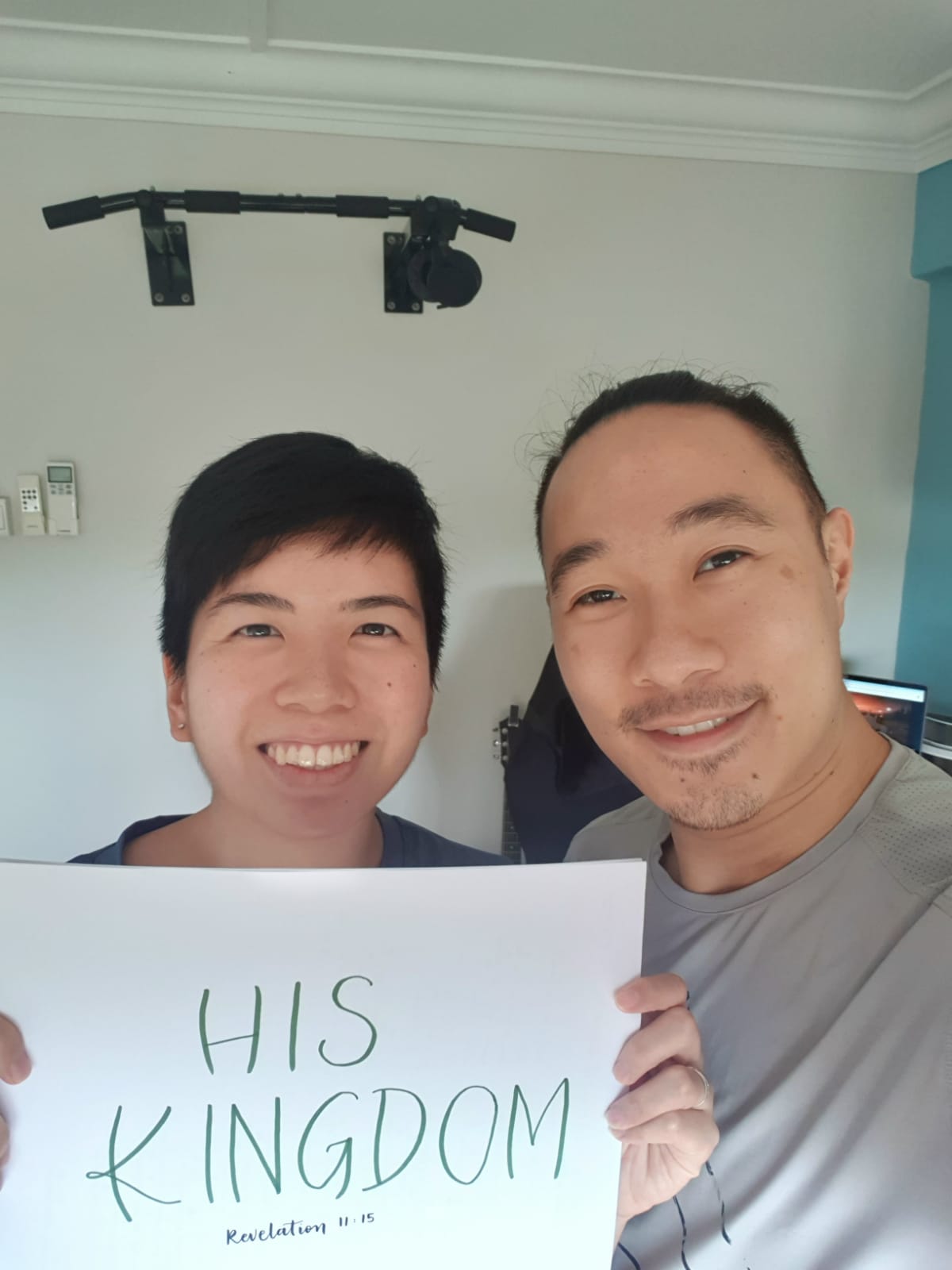 #36
"We want to see vibrant communities of Jesus followers among the young adults of Japan - their lives transformed by the power of His Spirit, their words moulded by this Word and their future secure in hope that Jesus brings. We pray that the Singaporean church will be engaged and excited to pray and see the Gospel of Jesus Christ shared to all nations."
- Ian & Marianne Chew
Ian and Marianne are waiting to go to Japan to serve as missionaries, with a special heart to serve among the youths who are marginalised and are 'outsiders' even in their own community.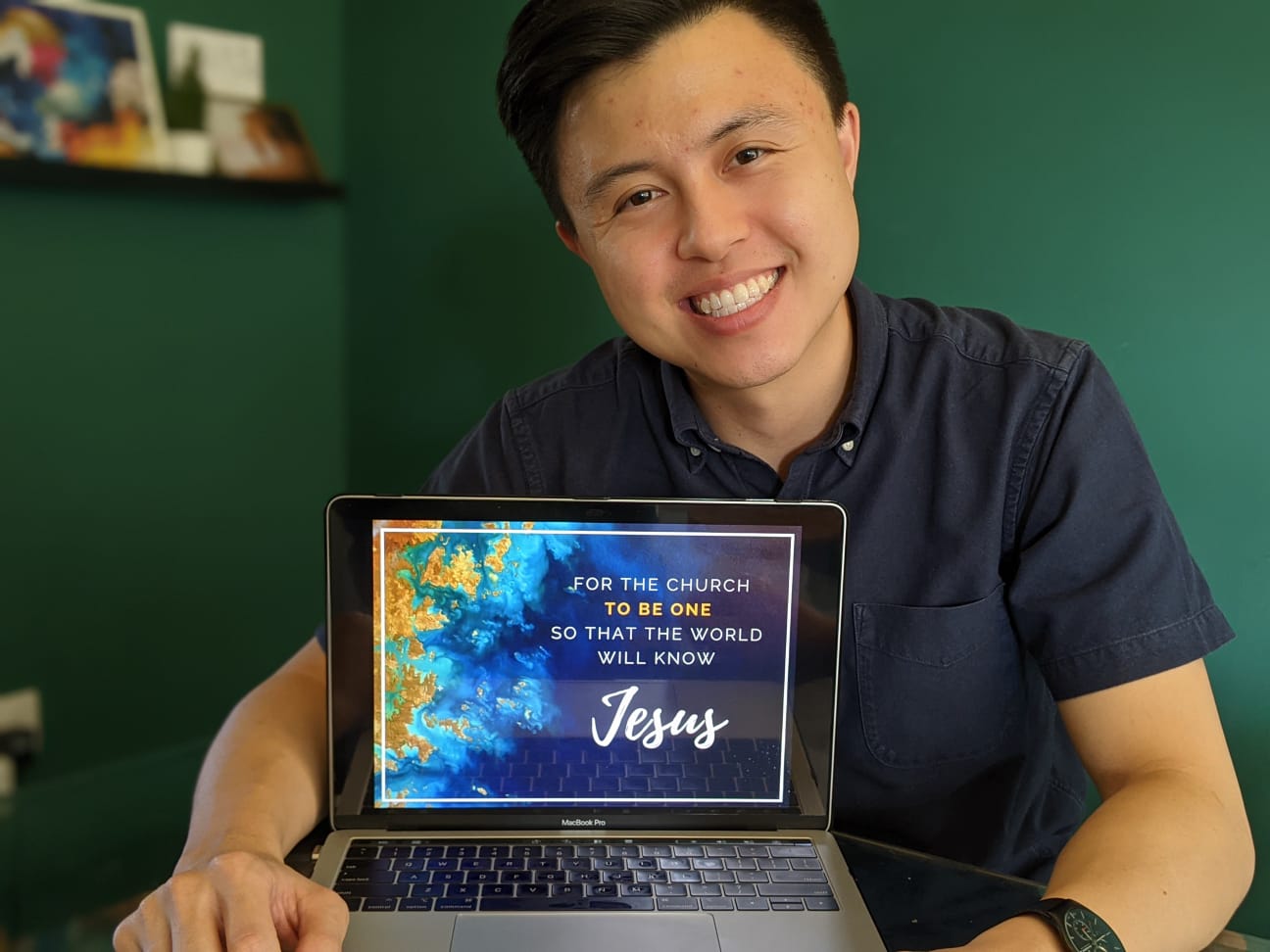 #35
"My heart is to see oneness in the body of Christ where disciples love one another as scripture teaches us and fervently work against division, for that is the witness and testimony that Jesus is the Messiah and that His glory is in us."
- Lun Wei Ming
Wei Ming serves as a pastoral staff in Kingdom Community Church.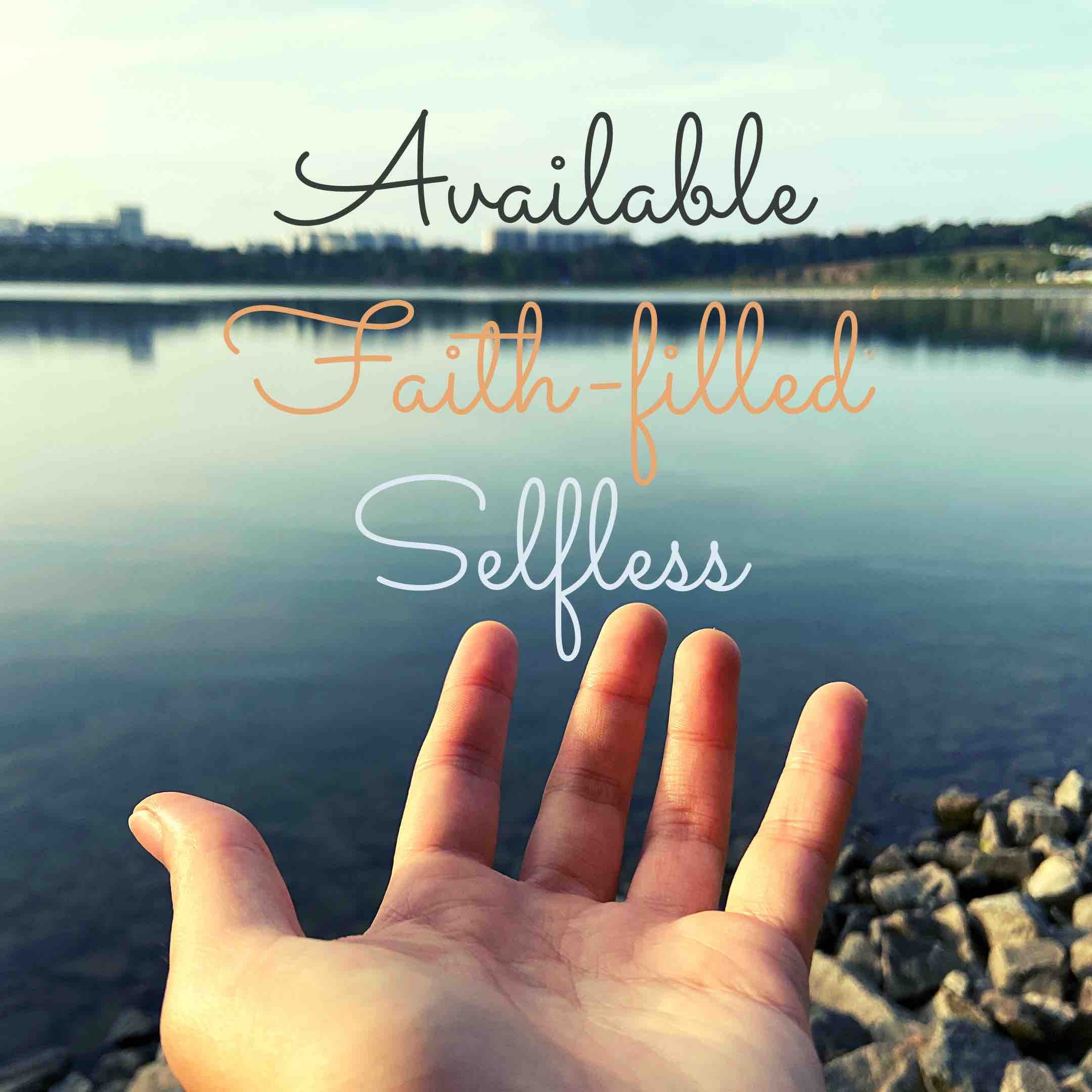 #34
"God calls every generation to respond to His call and dream big. May we in Singapore recognise that now is the time to step up and step out in faith, and impact many lives for Him."
- June Bay
June enjoys helping people but her greatest joy comes from seeing people encounter Jesus.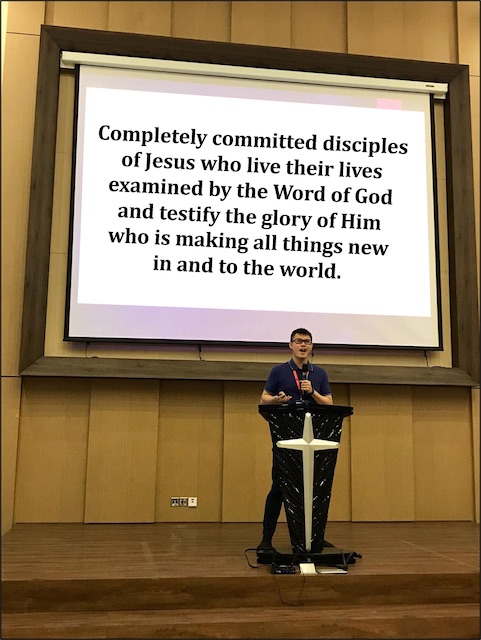 #33
"I see every follower of Christ surrendering their hearts to be searched daily by His Word. I see these citizens of Celestial City, individual members united with Christ as their head, not of the world but sent into it, stepping joyfully into their workplace and classroom, eager to complete every good work that God has prepared for them today. I see the Good News proclaimed and lived out in every corner of cities and villages. I see the Holy Spirit working in His mysterious ways, opening blind eyes to the glory of Christ and mending broken creations with His grace. I see the King seated on the throne, saying, "Behold, I am making all things new!" And lo, all creation shall see Jesus face to face!"
- Jefferson
Jeff serves the Lord through his day job at a local environmental sustainability consultancy and through various capacity in discipleship and digital ministries.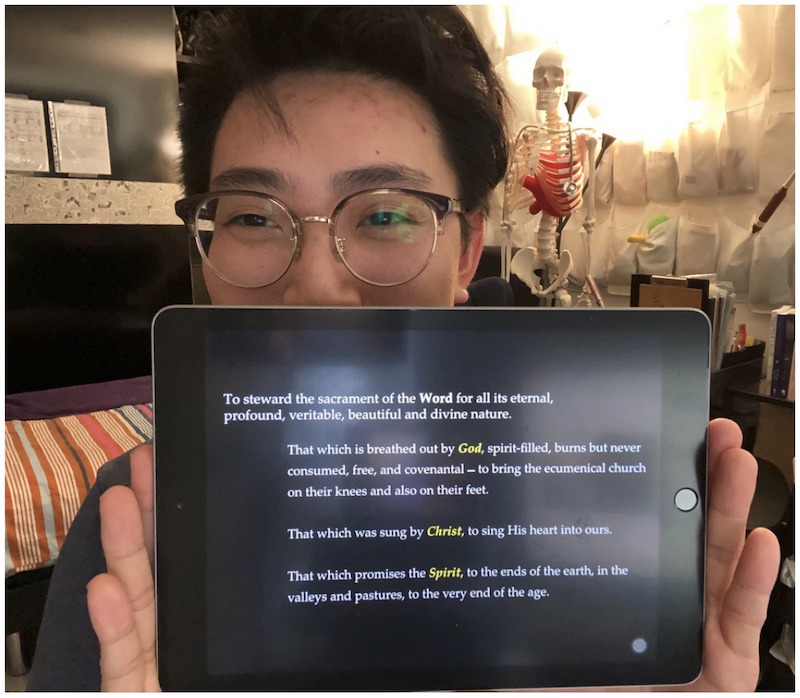 #32
"There is no other. Written by over 40 different authors, over 40 generations, over 1600 years, in different forms, purposes and intents. Yet, knit together by God's providence to tell one coherent story about how he loves us through Christ. It is a love letter written in time and space for all and yet the one in you. Beside special moments, 'conference-highs', and dreams, we are sent because He sends. In the beginning was the Word, and the Word was with God, and the Word was God. And the Word goes with us into 40 years of the desert, 40 days between resurrection and ascension, 40 weeks in the womb, 40 years of SCGM, and the next '40' in your stewardship. God's breath will prepare a generation!"
- Fung Waikit
Waikit is currently a final year medical student taking his exams. Caleb Goh's dream (see post #02) for the Church of Singapore strikes a chord in his heart, stirs him up and he wants to thank him for writing that.
#31
"To RECLAIM our Antioch call. To see our WHOLE CHURCH, taking the WHOLE GOSPEL, to the WHOLE WORLD! My prayer is for us to truly BE the Church! One where EVERY believer is an intentional disciple-maker. One who embodies the transformational power of the Gospel in every sphere of society. One who multiplies Kingdom-minded lives, proclaiming the Gospel to every nation. One who lives out the Great Commandment to LOVE, and owns the Great Commission to GO! May we be hungry to hear His voice and do whatever it takes to obey. May we give EVERYTHING to pursue the ONE God who is worth it all!
- Sarah Chan
Sarah is a full-time ministry staff with Covenant Evangelical Free Church, passionate to see generations reaching nations for Jesus!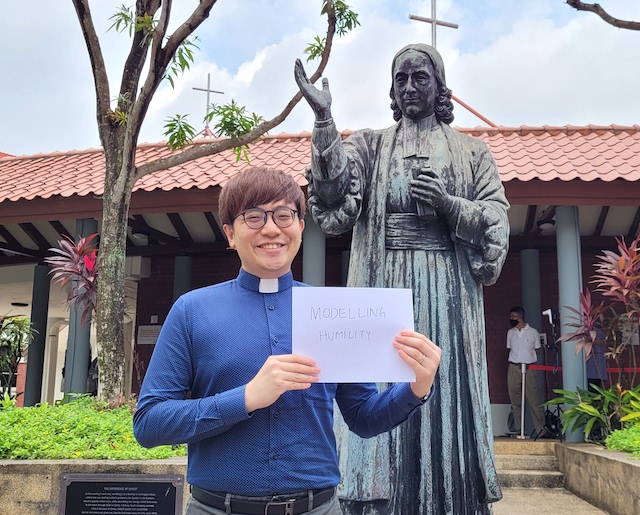 #30
"I dream of the Church modelling humility and solidarity with the nations. DT Niles described evangelism as "one beggar telling another where to find bread", but as a prosperous society it's tempting to slip into the mind-set of being a generous benefactor coming to provide bread. My hope, as the Church in Singapore matures in missiology, is that we would exemplify the humility and love of Christ to the nations, spurred by the examples of the missionaries of old whom God had sent to us. Let's all be beggars, seeking together the bread of life!"
- Benjamin Fong
Benjamin is a pastor in the Methodist Church awaiting the day when the body of Christ will stand before God, lost in wonder, love, and praise towards God's mission, and are looking to serve the Lord long-term abroad in Asia.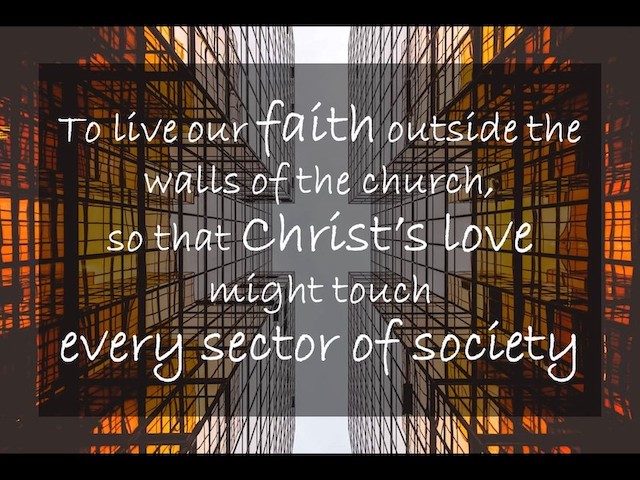 #29
"Faith cannot be lived inside a box. Jesus calls us to serve others in our homes, our neighbourhoods, our communities, and our societies. Whatever our station in life, may we always be on the lookout as to how we might participate in God's mission, by demonstrating His love and values to others!"
- A&P
A&P are a couple currently working on mobilising the church in Singapore towards God's mission, and are looking to serve the Lord long-term abroad in Asia.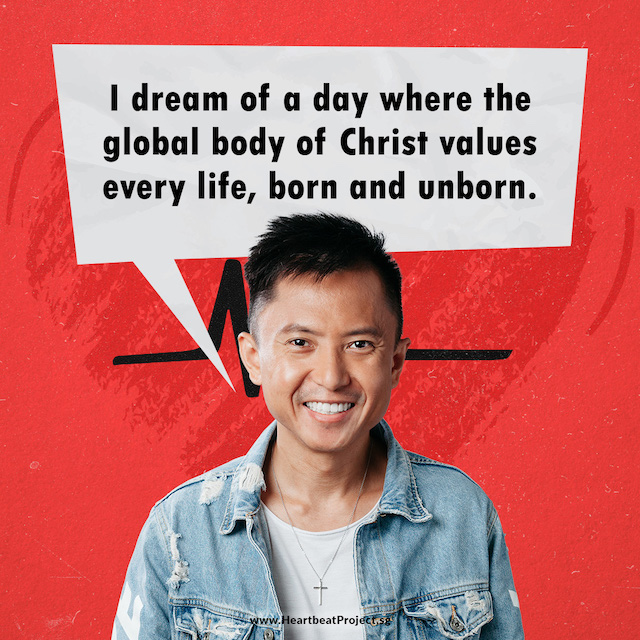 #28
"I dream of a day when abortion would be uncommon because it is common place for the global body of Christ to provide the answers to unplanned and unwanted pregnancies. We can do so by supporting single mums and families facing unplanned pregnancies. By fostering and adopting children-in-need. And by being an authentic gospel community to children with special-needs and their care takers."
- Norman Ng
Pastor Norman is the Deputy Senior Pastor at 3:16 Church and the co-founder of two social movements that disciples the church on key issues such as same-sex attraction and the sanctity of life - TrueLove.Is and the Heartbeat Project.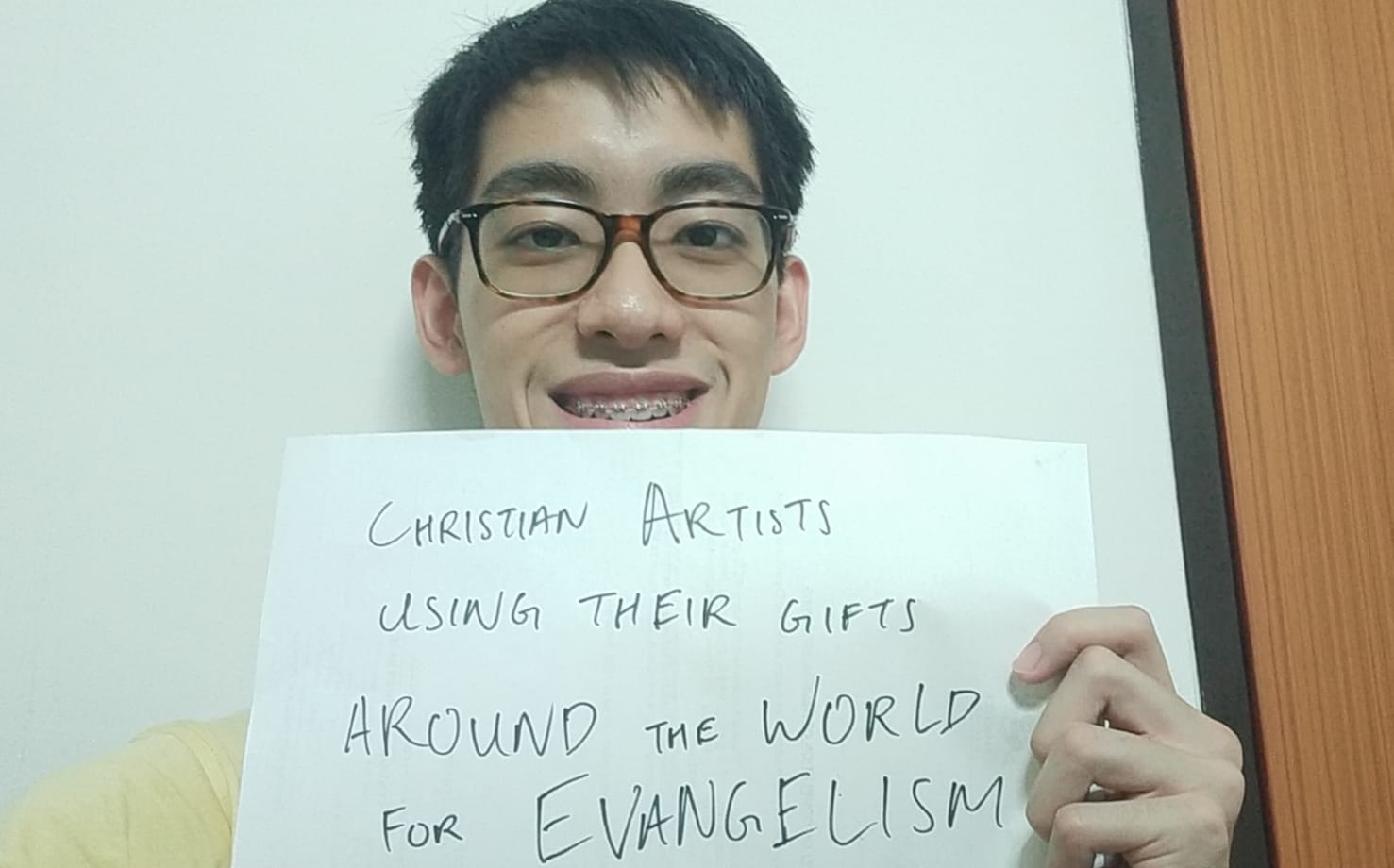 #27
"I hope to see christian artists from all nations continue to use their gifts and talents to reach out to more hearts who need God."
- Jakin Tan
Jakin is a young man currently serving in National Service.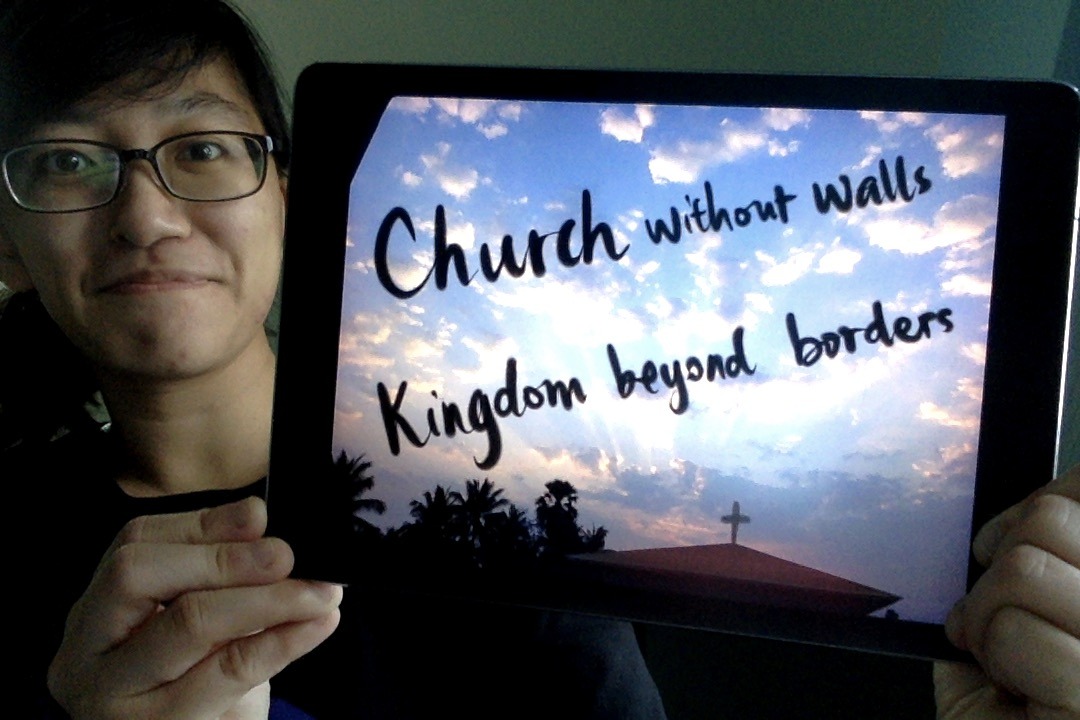 #26
"I pray that God reveals Himself to and through His people here, that the Gospel be embodied by the Church without walls, where every individual is included in the feast of God's Word, where grace and truth abound outward; the Kingdom of God without borders, where the love of Christ is shared everywhere, such that everyone knows someone who follows Jesus."
- Jacqueline Lie
Jacqueline is a student of God's Word who has caught a glimpse of how He is working mightily here and beyond our shores.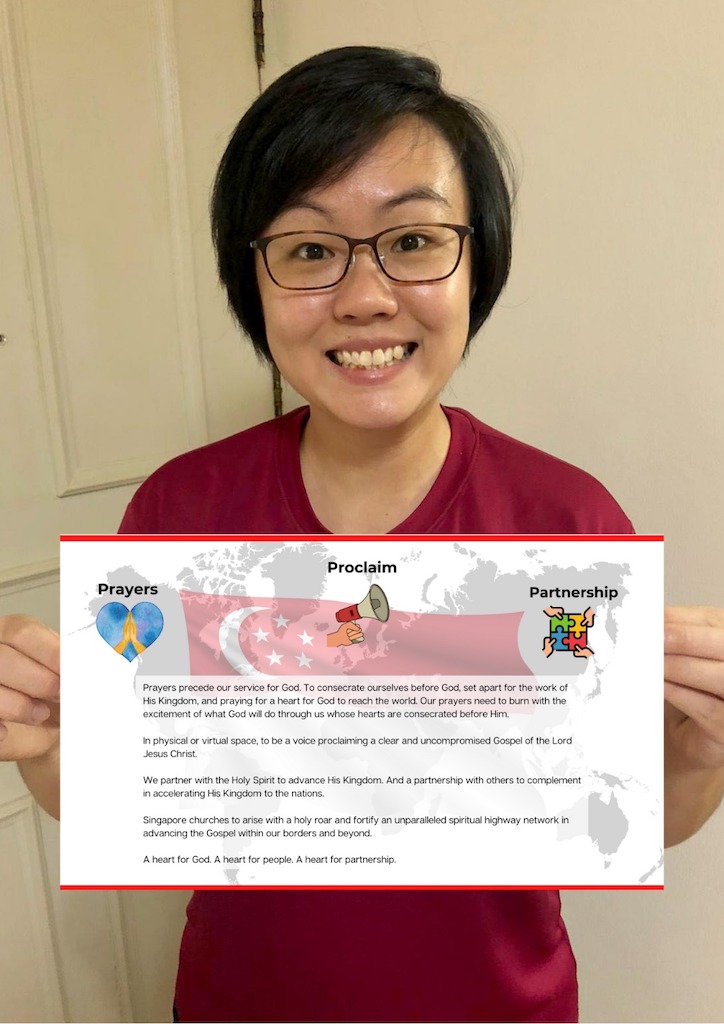 #25
"My hope for the Singapore churches for global missions to be actively and intentionally involved in Prayers, Proclaiming, and Partnerships. Prayers precede our service for God. To consecrate ourselves before God, set apart for the work of His Kingdom, and praying for a heart for God to reach the world. Our prayers need to burn with the excitement of what God will do through us whose hearts are consecrated before Him. In physical or virtual space, to be a voice proclaiming a clear and uncompromised Gospel of the Lord Jesus Christ. We partner with the Holy Spirit to advance His Kingdom. And a partnership with others to complement in accelerating His Kingdom to the nations. Singapore churches to rise with a holy roar and fortify an unparalleled spiritual highway network in advancing the Gospel within our borders and beyond. A heart for God. A heart for the nations. A heart for partnership. "
- Germaine Tay
Germaine, a technionary, believes in mission collab (collaborating and co-laboring) to shine the Gospel Light in physical and digital space.
#24
"With great awe and wonder, we hear about the Spirit of God igniting past revivals in Singapore's history, but a deeper question stirs within us - what about us? What about this generation of Singaporeans? Will we simply be contented to hear about the glorious past, yet not expect the Lord for a mighty revival for today? May we be the generation to see the greatest move of God in Singapore...in our lifetime indeed!"
- Zac Zhang
Zac pastors at Hearts Alive Church and builds his family of 2 boys with his best friend Sab.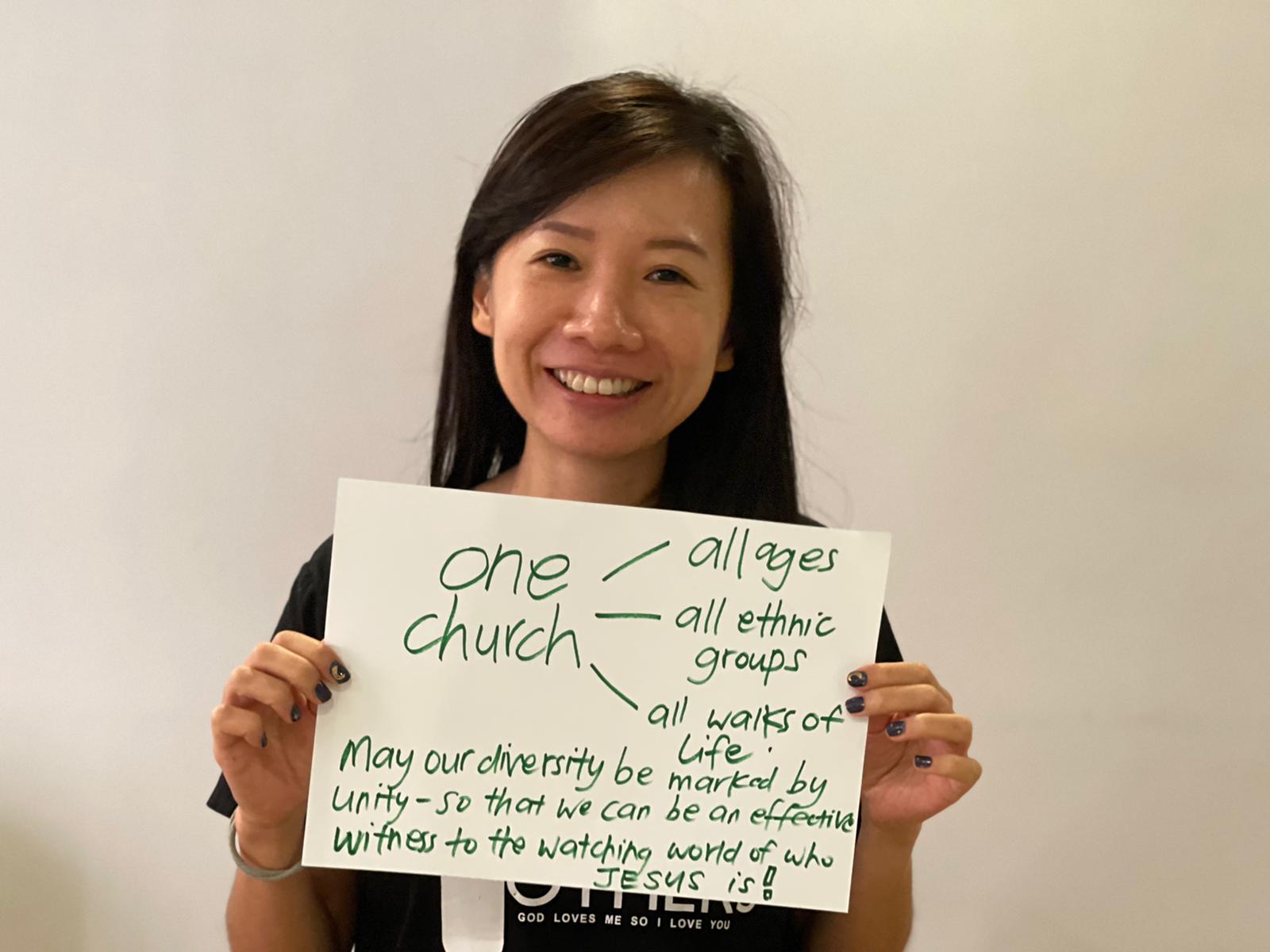 #23
"I hope that the Church would be made up of people from all ages, ethnic groups, and walks of life. And yet our diversity will be marked by unity - so that we can be an effective witness to the watching world of who Jesus is :)"
- Joanna Hor
Joanna can never get enough of potatoes, bargains, and stories which inspire hope and happiness. Still nothing thrills her more than hearing about the life-transforming power of God's word in a person's life. She currently serves in YMI, the young adults' arm of Our Daily Bread Ministries.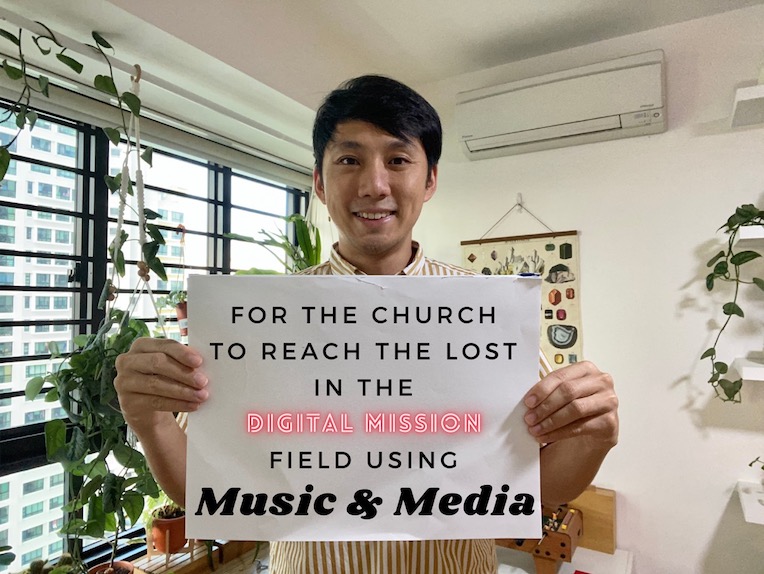 #22
"My dream is for the church to engage in The Great Commission on social media platforms, using music and media as creative vehicles to reach the lost and disciple the next generation."
- Ling Jia Hao
Jia Hao is the founder of the Fireplace Collective - A Christian Creative Agency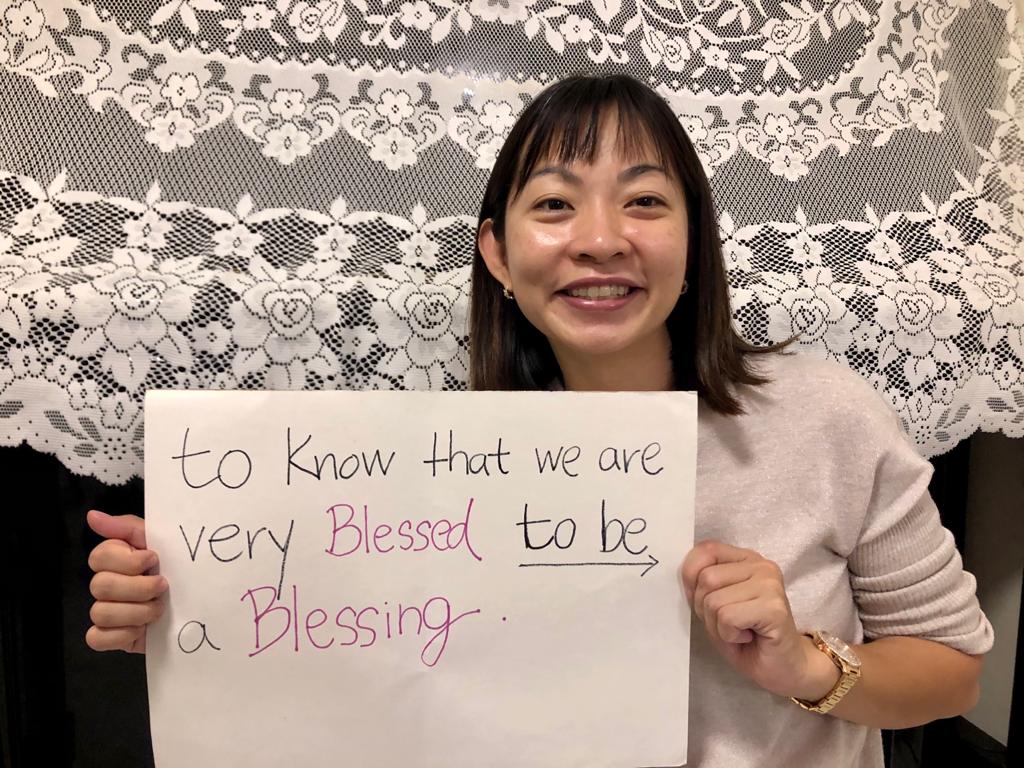 #21
"My hope for the Church of Singapore is to come be awakened to the knowledge that we have been tremendously blessed for a purpose, that is to be a blessing to the nations (Gen 12:2). With great blessings come great responsibilities."
- Wei Kai Yin
Kaiyin is a palliative care social worker who is currently preparing to be sent out to serve in Asia.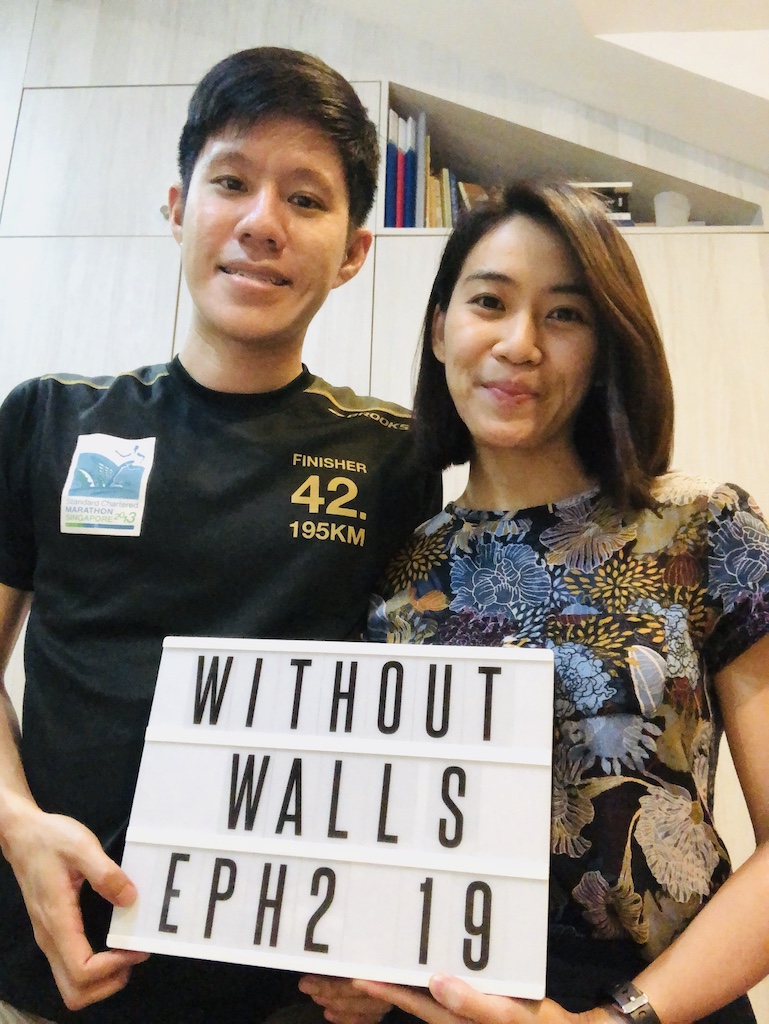 #20
"We hope that the global church will be a home for the stranger, the alien, the marginalised, the least, the last, and the lost. May we, as the church, be a transformational community that seeks to bring God's love and peace to those around us - a church without walls."
- Daryl & Gina Tay
Daryl and Gina both have a heart for the marginalised (in Singapore and overseas). They are both church workers who are passionate in mobilising God's people for His mission.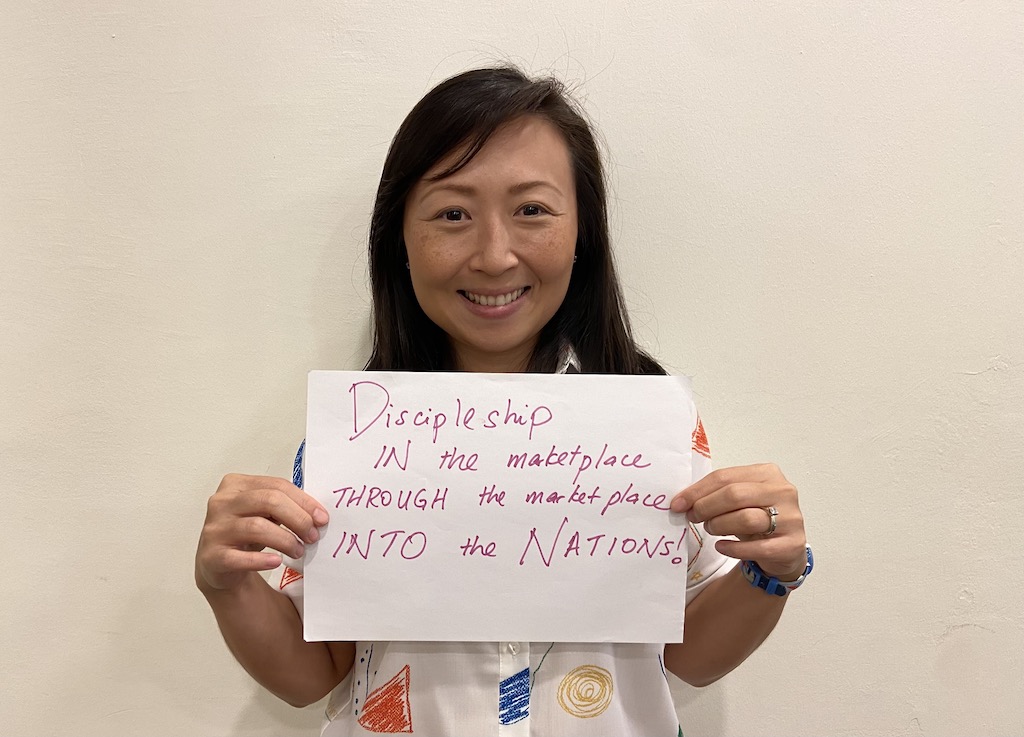 #19
"A missional key within Singapore's DNA, is our call as an international hub for business, trade and commerce. There is tremendous kingdom potential! I'm believing for our nation, where many believers are mobilised -- to disciple their workplace communities, influence marketplace practices, build kingdom businesses, and launch out into the nations through the marketplace to preach the Good News! The Great Commission knows no bounds!"
- Winnie Tomlinson
Winnie is passionate for God's revival in the nations and kingdom transformation in the marketplace. She serves as the Missions Coordinator at her home church, Cornerstone Community Church.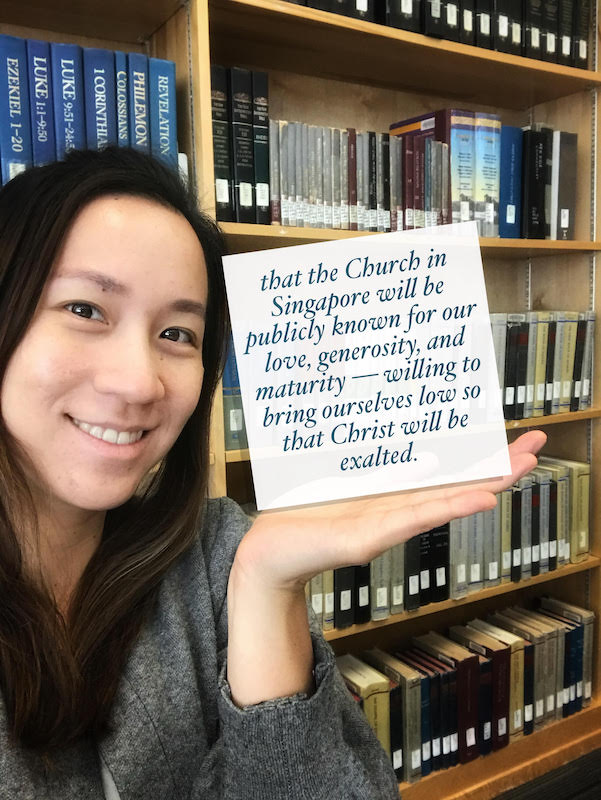 #18
"My hope for the Church in Singapore is that we will not consider our privilege and power something to be kept for our own private gain, but to recognise that since much has been given to us, more ought to be given away. May the Church in Singapore be known by the public for our love and maturity as we generously share our strengths and exercise faith in our weaknesses for the sake of God's kingdom."
- Benita Lim
Benita is currently a PhD student (Theology and Culture) at Fuller Theological Seminary whose passion lies in uncovering how God can and will one day be worshipped by every tongue, tribe, and people of this world.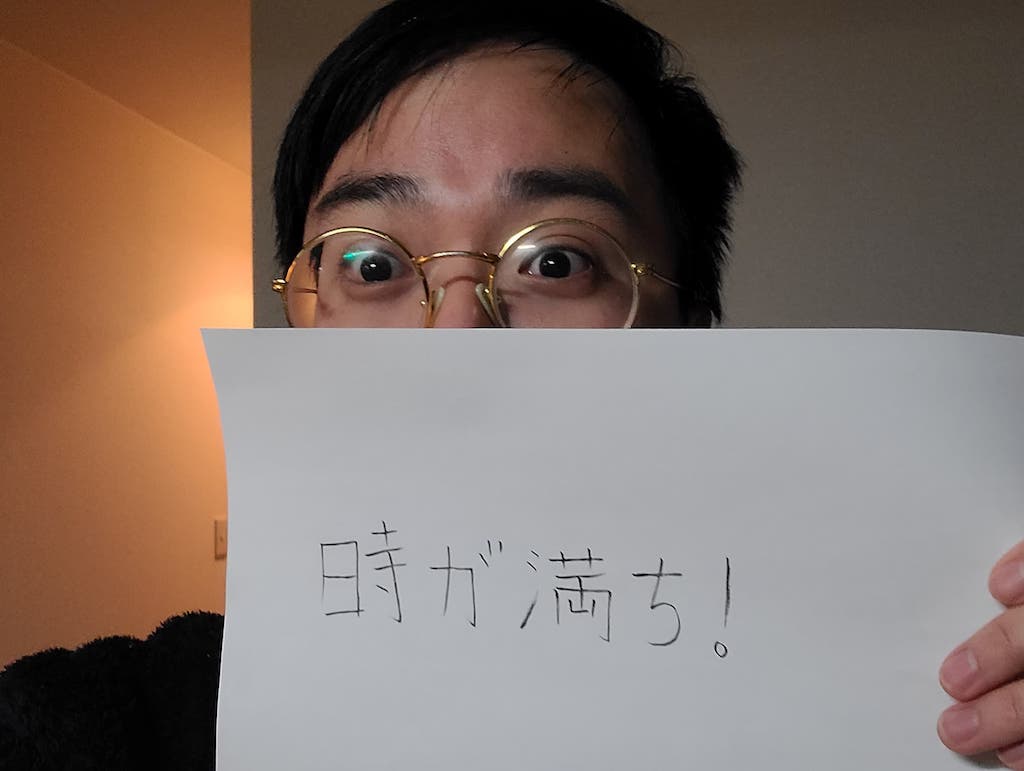 #17
"時が満ち! "The time is fulfilled, And the Kingdom of God is at hand; repent and believe in the gospel." In the gospel according to Mark, these are the words of Jesus when he began his ministry. This is indeed the kairos and we pray that the good news of Jesus will go out into the areas and people who have yet to hear and that God will turn them to Him! "
- Chia Shao Xiong & Levene
Shao Xiong and his wife Levene, from Prinsep Street Presbyterian Church, serve with OMF in Yokohama.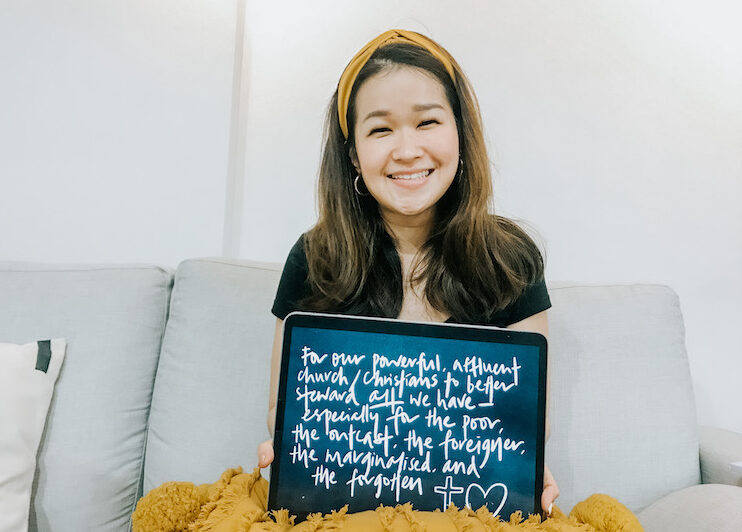 #16
"Jesus began his earthly ministry by quoting Isaiah 61:1 - his redemptive ministry is inseparable from the afflicted, the sick, the captives, the oppressed, the outcasts, the poor. This not only enables us, but obliges and challenges us to understand Jesus' ministry not only as spiritual, but also as concrete kinds of physical, social and economic liberation. The church must have a radical sharing of our resources and a new devaluation of wealth, because the true worth of all our possessions is to be measured by their use."
- Jolyn Ng-Meregaglia
Jolyn is a graphic designer and youth worker who quit her job, pursued Intercultural Studies, and met her (Italian) husband because God interrupted her life by sending her to Africa for six months.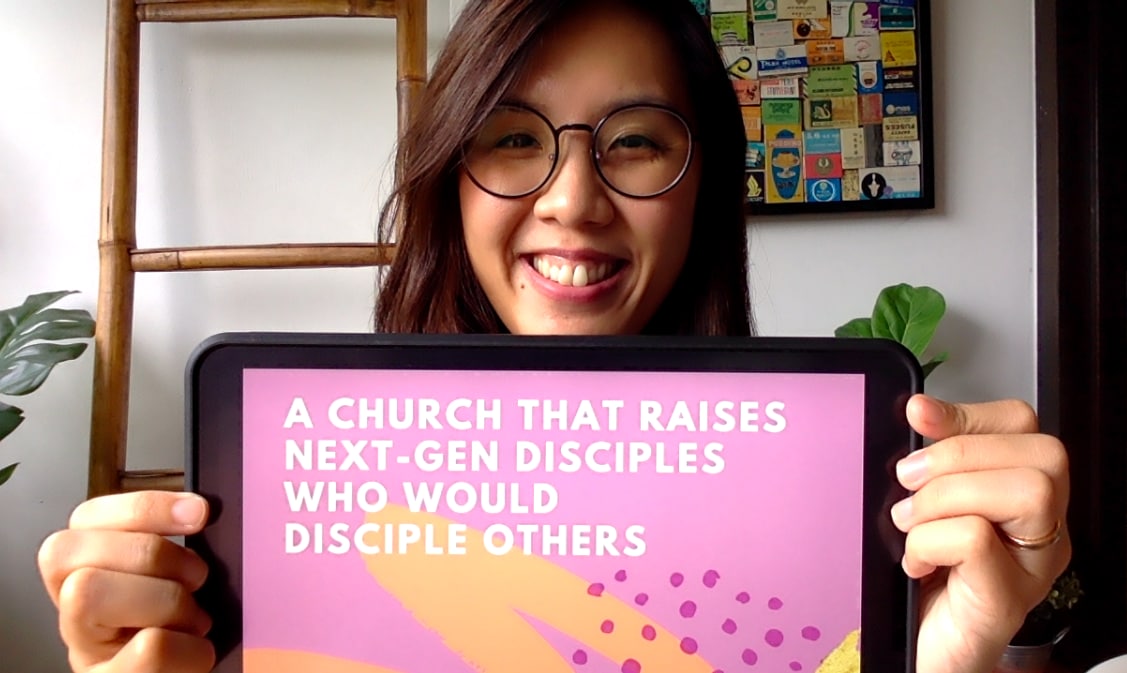 #15
"My hope is to see more young people following Christ at all costs – not just in Singapore but across the world. And that they will, in turn, disciple the next generation, so that the Church can continue to grow for the next 40 years and beyond!"
- Gracia Chiang
Gracia is the managing editor of Thir.st, a digital ministry for youths and young adults.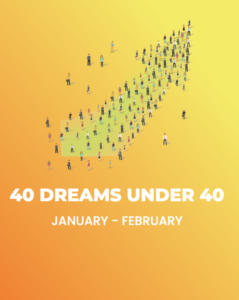 #14
"Every member in the church living out missionally, using their skillsets and talents, wherever they are placed in (in their jobs such as government, business, MNCs, SMEs, NPOs, SSAs, church, or countries etc), thinking globally and working together to advance the global mission. We hope that these networks happen not just in the local Singapore church, but globally with other churches all over the world (with lesser resources especially) as well. Christians all over the world being connected to serve the global mission. Churches helping and supporting each other's mission. Ultimately, hoping for the global partnership in this global mission to reach the unreached people groups."
- MS & JO
An Engineer and a Social Worker. Something interesting is that we are trying to pick up a new hobby: fishing! We believe that missions is for everyone, and should happen anywhere.
*Photo has been removed for due diligence purpose.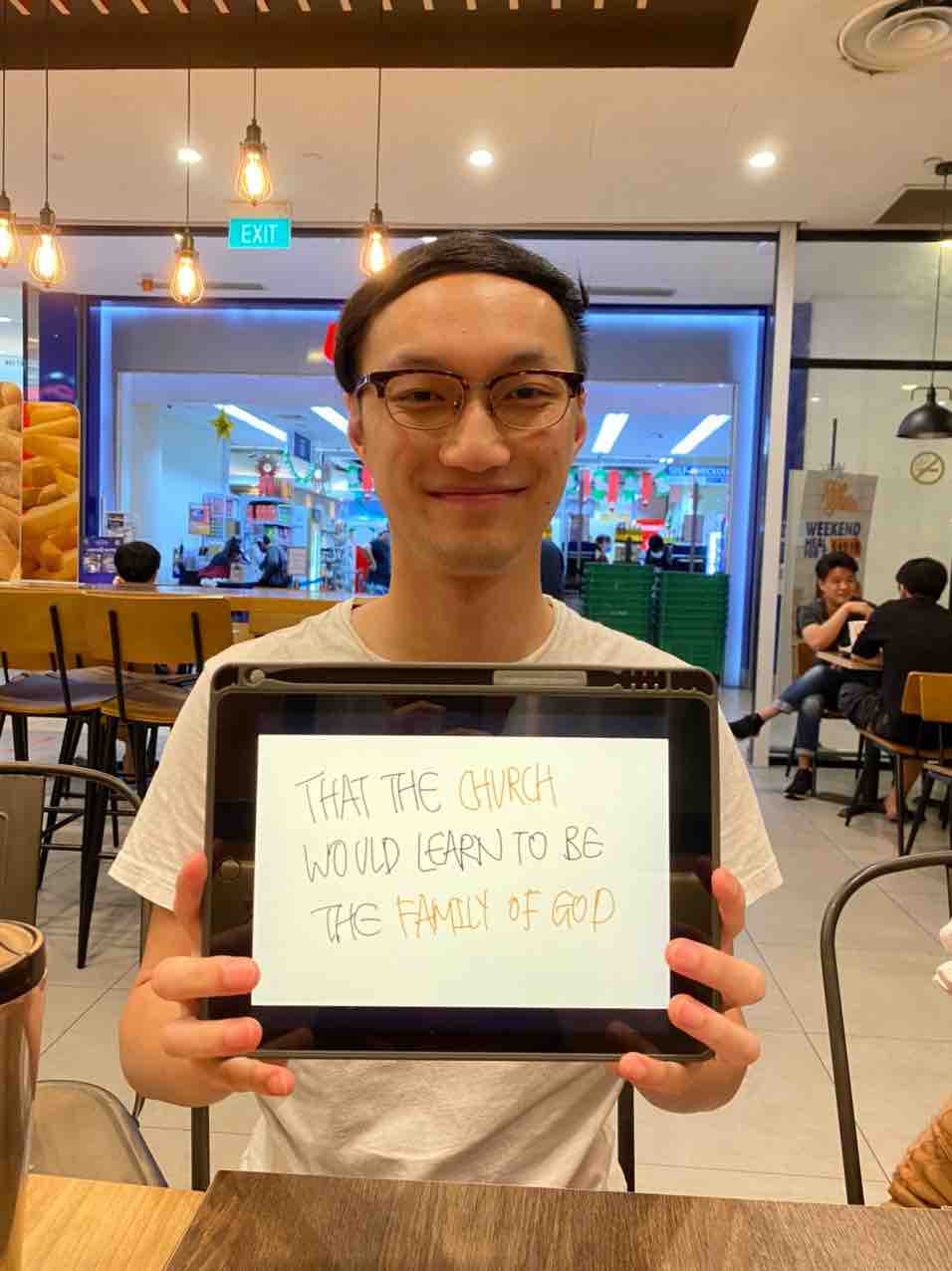 #13
"What if God would slow us down and work within our productivity-driven and KPI-focused nation, and show us what being the family of God looks like? A family that is focused on relationships over events and collaborations over individualism. A family where our love for each other runs deep, showing us to be His disciples to the world. And, a family where the older ones would be like spiritual fathers and mothers, so that we can confidently pursue all of God's calling over our lives with the love and support backing us. I'm longing to see us fulfil our national destiny as Antioch of Asia, sending workers that would carry with them the kingdom culture of family wherever they go!"
- Sng Zhong Hao
Zhong Hao is the head of UNITY, a relational network of ministry leaders that desires to see believers dwell together in unity on campus and beyond.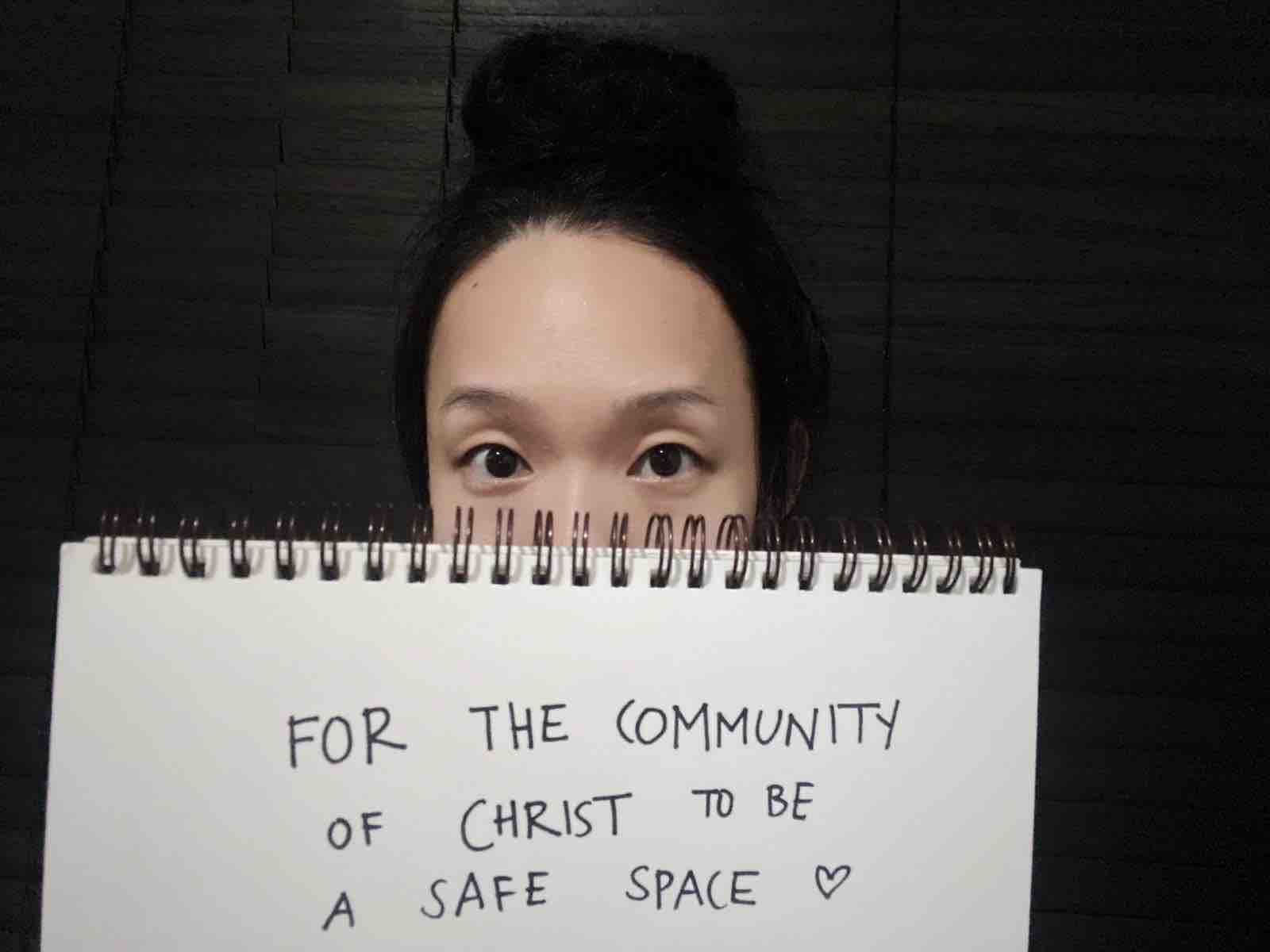 #12
"My desire is that the church body would be a true family in which people can be vulnerable and wrestle with life's complexities together, with the confidence that they are loved no matter where they are at on their spiritual journey."
- Faith
Faith is just a person trying to follow the leading of the spirit.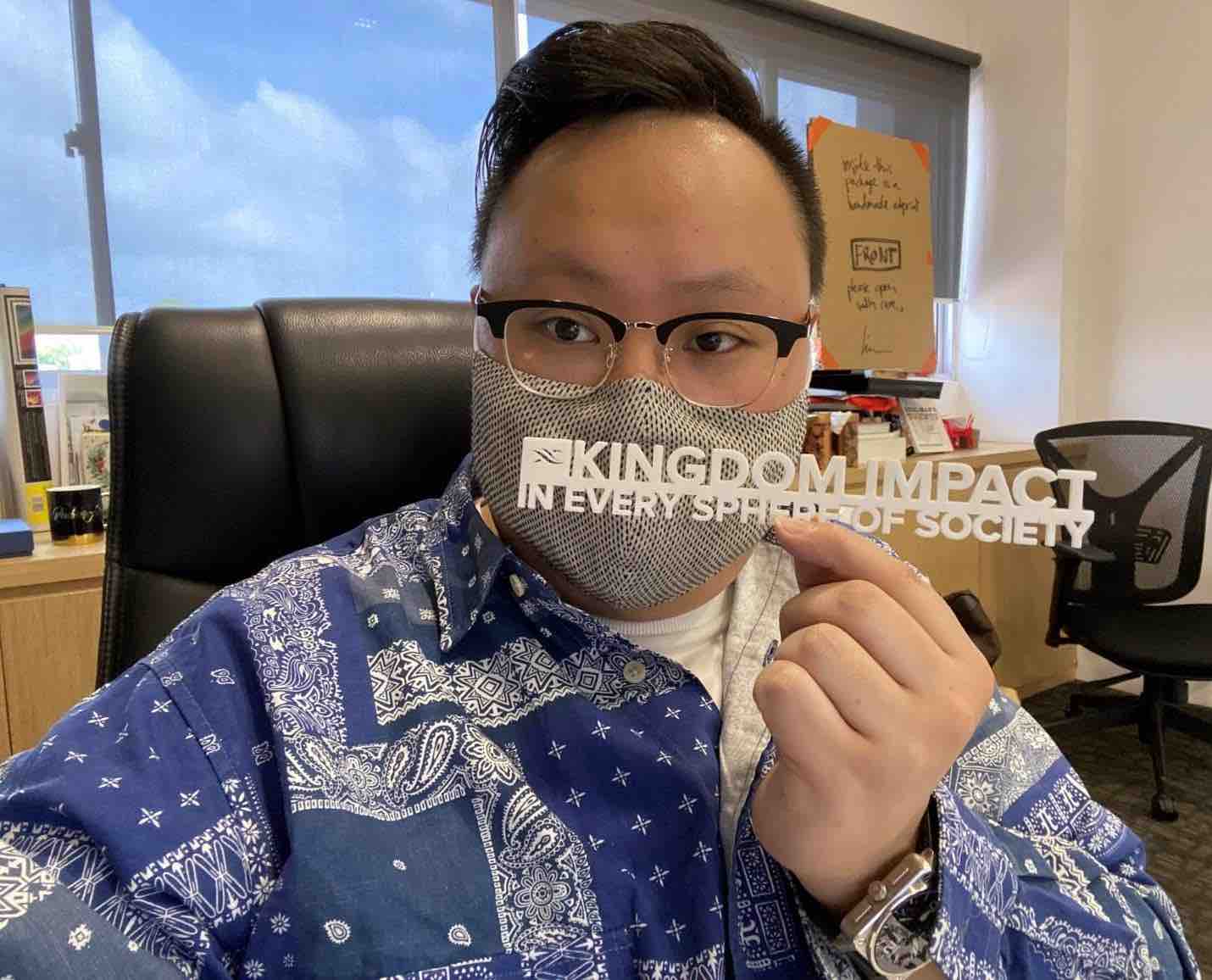 #11
"As a missional community, it is such a privilege to be able to participate in the same momentum of what our Father is already doing in His creation, that is, God's mission of ushering in His Kingly redemptive reign to save, heal, reconcile, restore and make all things new (Rev 21:5). My hope for the Church in Singapore, God's peculiar people, is for us to live out our calling of creating Kingdom impact in every sphere of society through our Kingdom ethic. And since we spend most of our time and energy at work, why not start within the ambit of the marketplace; bearing the whole Good News to every square inch of the ecosystems we are placed in."
- Reuben Ang
Reuben is a Millenial who loves Jesus, people and good food; in that order.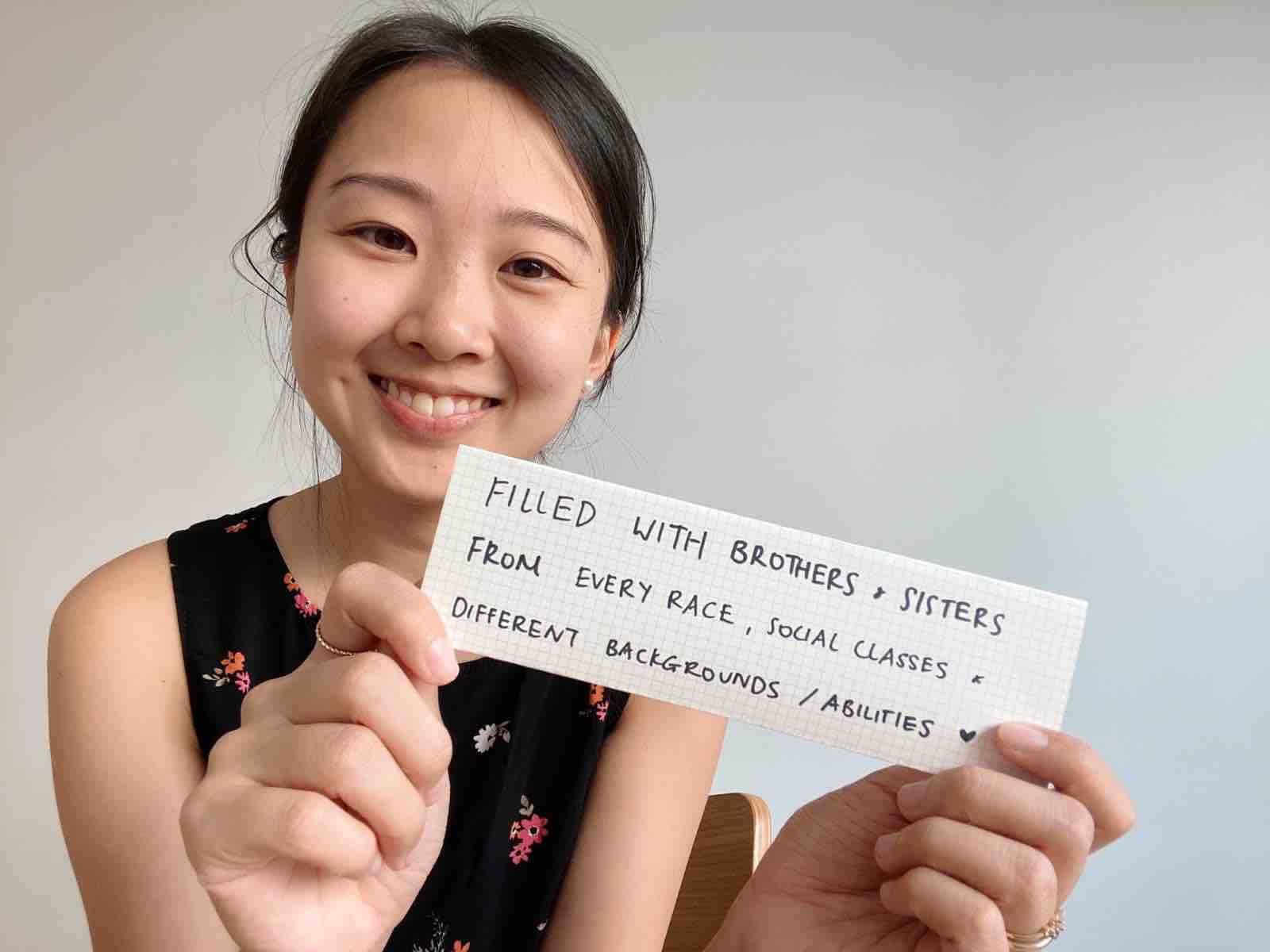 #10
"I dream of a day when the Singapore Church will be made up of a united and diverse group of believers. Not made up by a majority of a certain race, from a certain education and a certain background. Instead, one where we see different cultures, ethnicities, physical abilities, jobs, social classes, family backgrounds; welcoming each other, helping each other in times of trouble, journeying together in the mountains and valleys, serving one another and staying united despite differences. This would be a beautiful glimpse of heaven, and a reflection of our Creator God!"
- Isabel Phua
Isabel believes that everyone has a role to play to build a welcoming environment for our migrant worker community, be it befriending our estate cleaners, emulating kindness to our children, or even working with politicians to pass policies.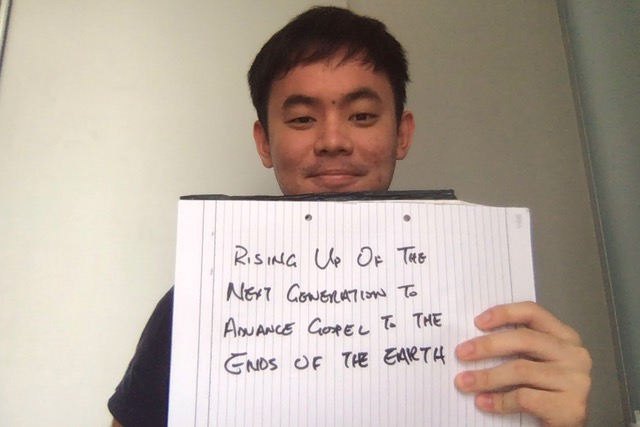 #09
"Rising up of the next generation to advance the gospel to the ends of the earth."
- Caleb Leong
Caleb is a cross-cultural missionary and runs his own digital marketing agency. He desires to see revival break out among all people across every nation.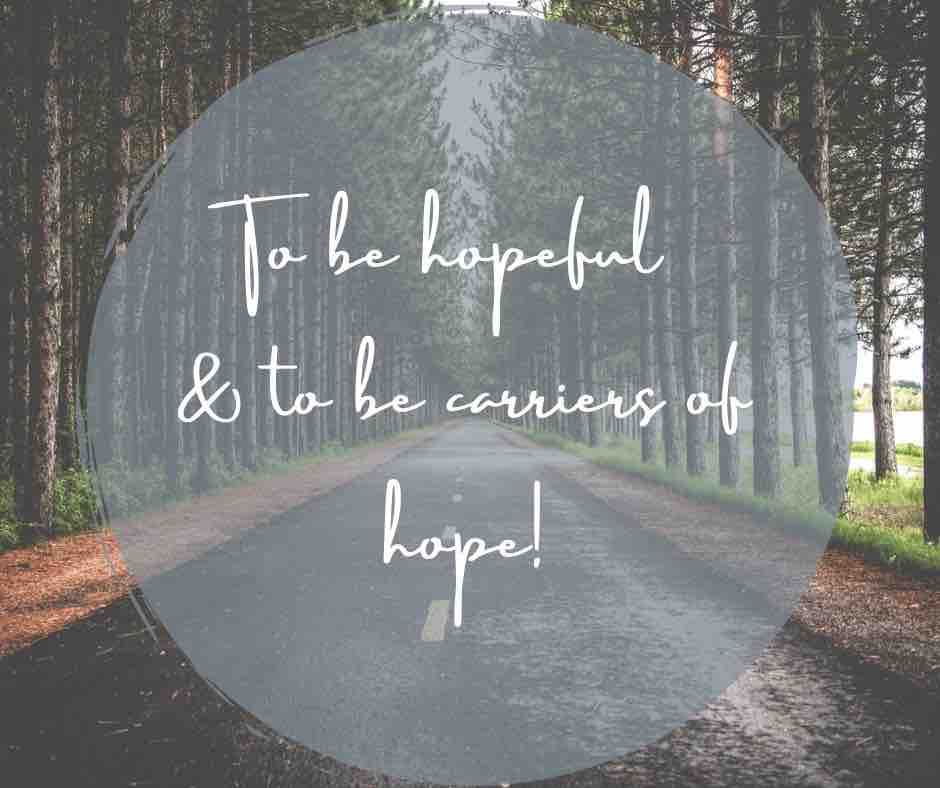 #08
"My dream for the Singapore Church in 2021 is for us to be people who are hopeful and also carriers of hope to others. Though 2020 was hardly what we expected, we remain hopeful because we have life in Jesus! In the global field, the church is to be carriers of hope to the most painful and difficult situations. We are children of the light and because of this hope we have in Christ, we remain confident that He will finish all that He has started. My prayer for the church in 2021 is that we will be utterly confident in this hope we have and remember that ultimately, we know the end of the story - Jesus has the victory! May we remember our reason to hope in 2021!"
- Wong Yu Xiang
Yuxiang is a social worker who works cross-culturally with the minority and marginalised.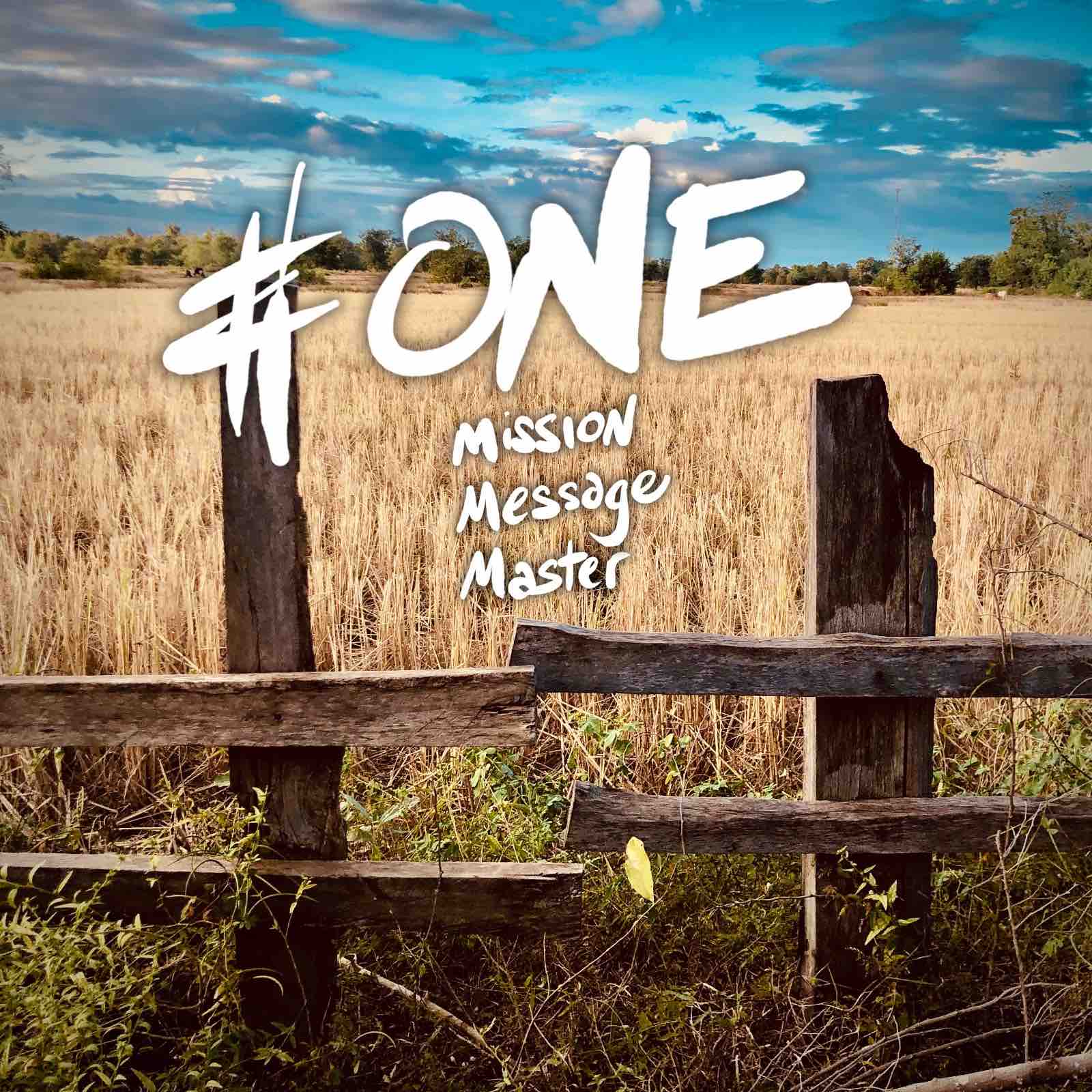 #07
"One Mission . One Message . One Master. There are many voices today championing many good causes. I hope that the Church in Singapore will be increasingly simple and united in the way we do church and in the message we project. Let it be known that 'Jesus loves you'. ."
- Matthew Tan
Matthew Tan is servant of God.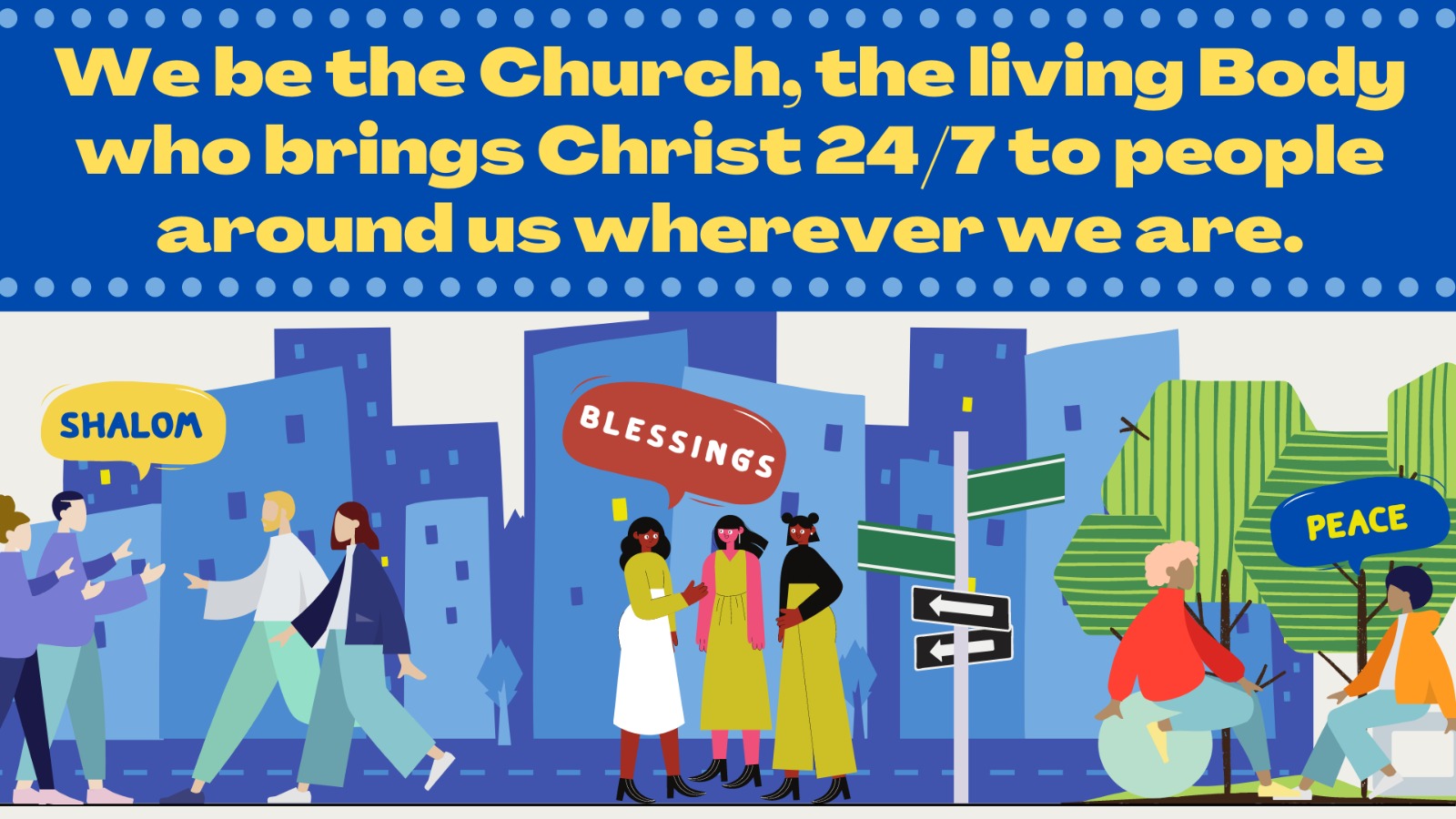 #06
"More than church being a physical building or only a gathering every Sunday, we bring Christ's character and presence wherever we are. We first need to deeply know and experience Christ for ourselves. Through our lives, words, and actions, we reflect Christ's love, mercy, grace, and our dependence on His strength, victory and power. Instead of efficiently completing obligations and tasks, may we invest time and heart to build our lives on authentic and deep relationships with those around us, like Christ did."
- Angie Ng
Angie is currently a student at Singapore Bible College, doing Masters of Arts in intercultural studies.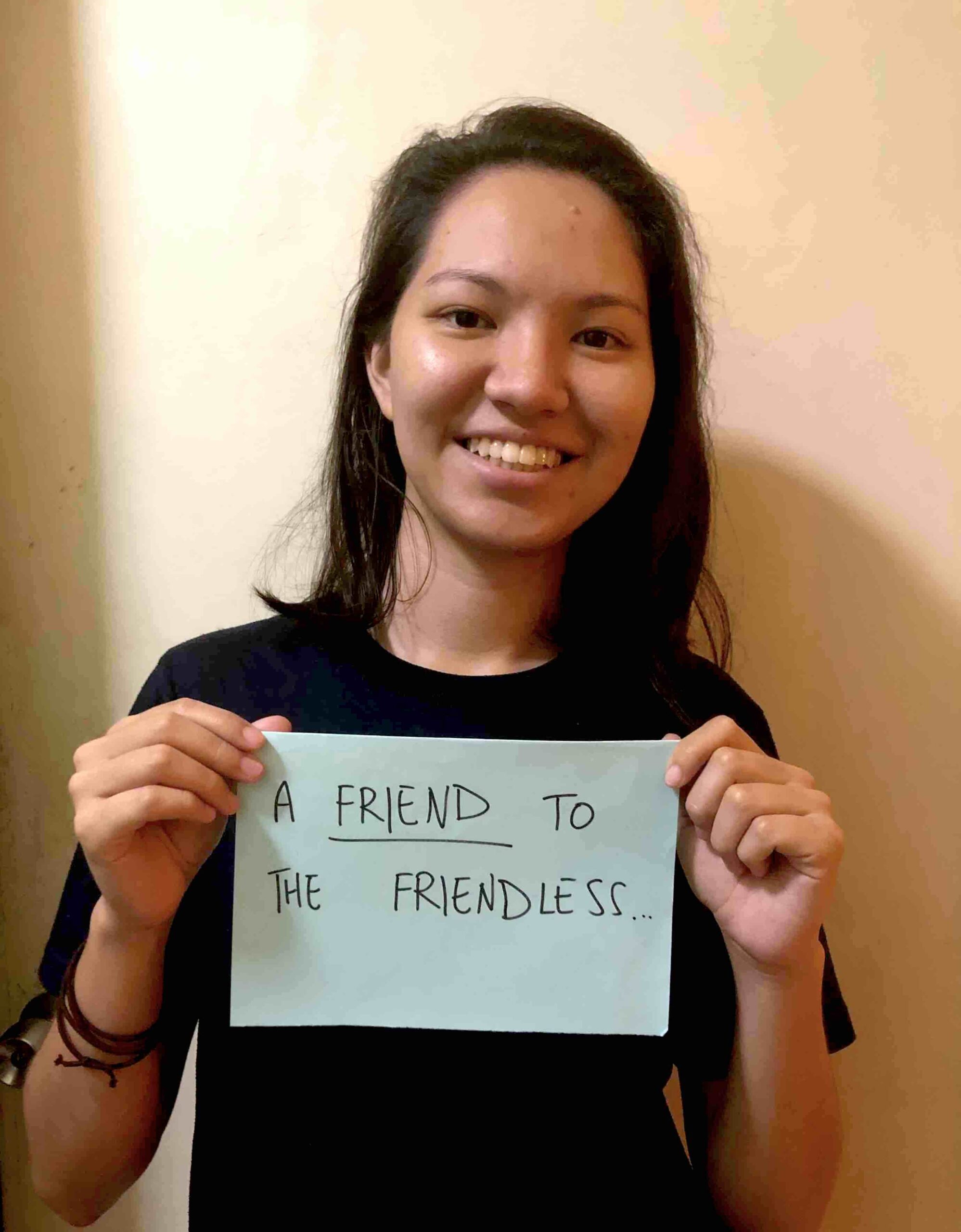 #05
"My hope for the Singapore Church is that it would continue to show up to love and care for the friendless: the unreached, the lonely, and those the world rejects and forgets. I hope that we will be marked by our simple faithfulness to be present and to love."
- Claire Carter
I'm Claire, a young adult from Grace Assembly of God.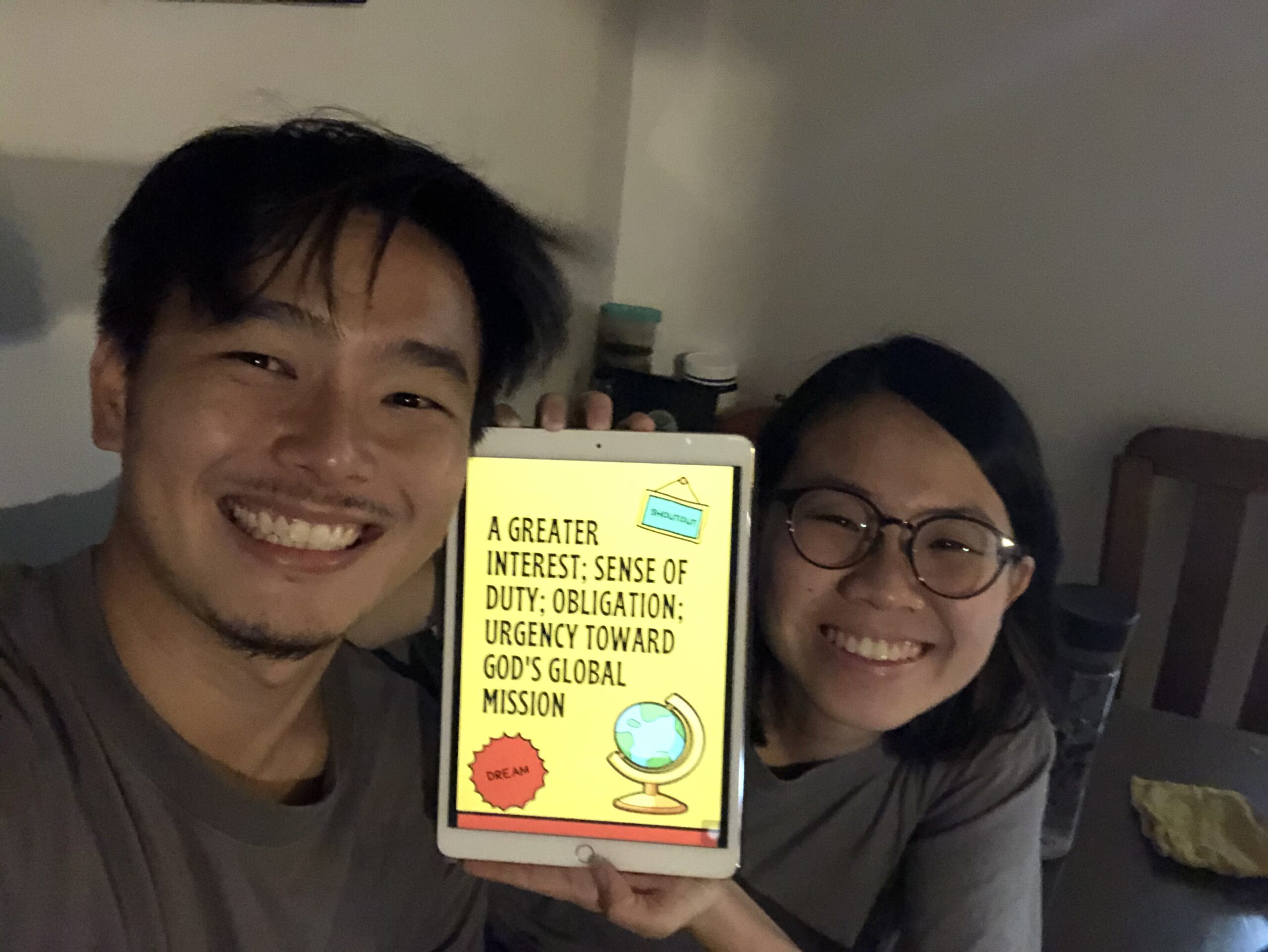 #04
"Our hopes for the Church is for her to grasp the biblical basis of missions, and with that, begin to recognise her duty and call towards making Christ known amongst the nations. May we look beyond 'comfortable Christianity' that is self-serving, but rather, pour ourselves out as living sacrifices for God's mission, because He is worthy and is to be glorified."
- Judah & Zoeleen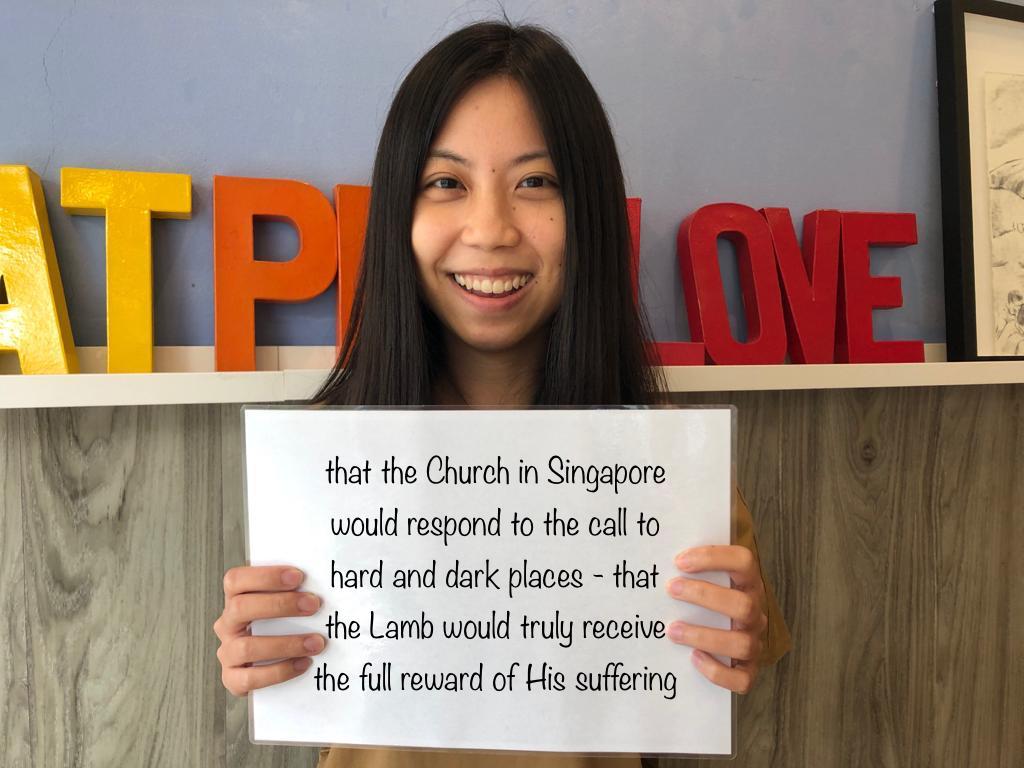 #03
"That the Church in Singapore would respond to the call to hard and dark places - that the Lamb would truly receive the full reward of His suffering."
- Heidi
Heidi works with displaced people in Asia.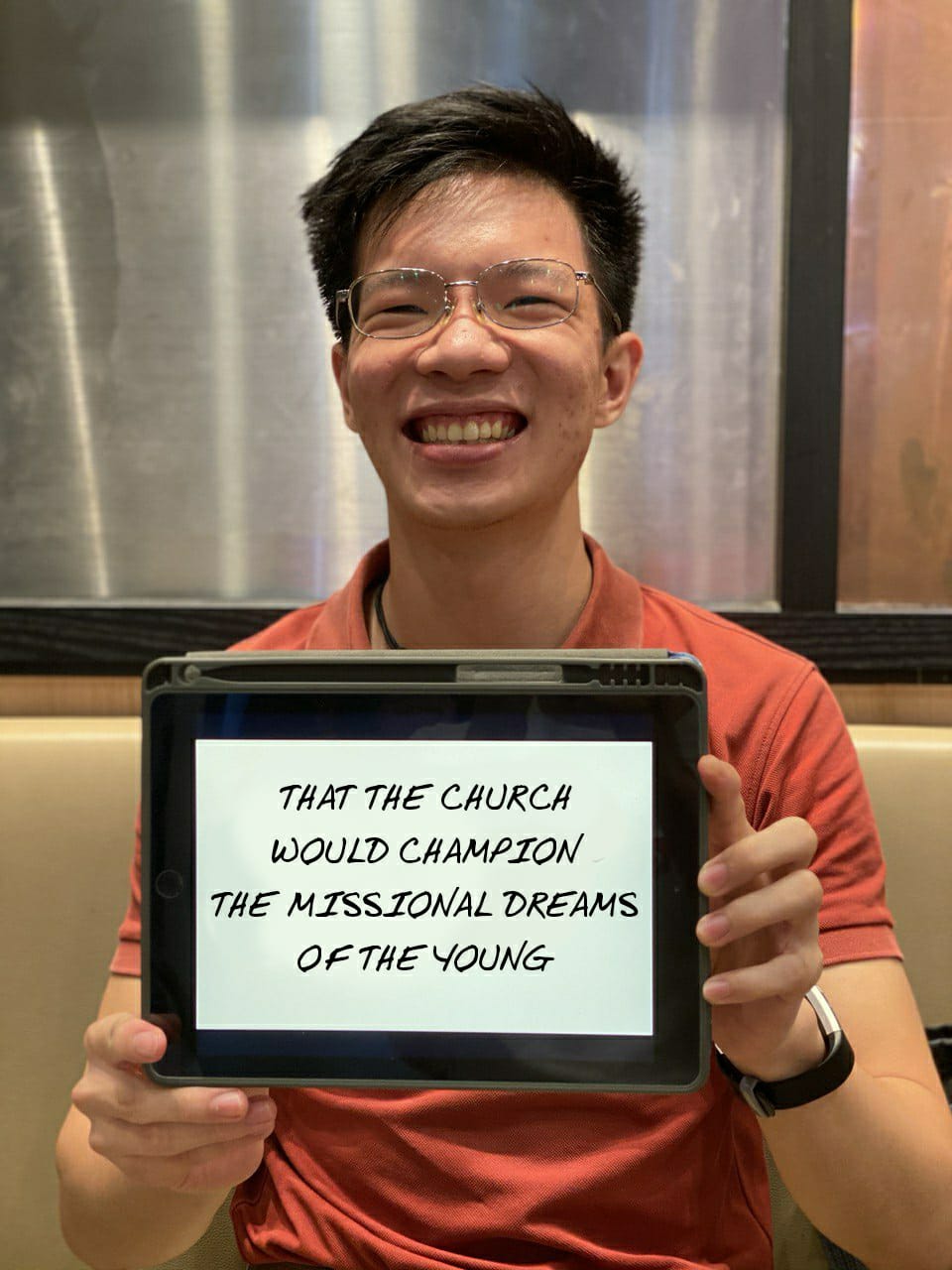 #02
"My hope and dream for the church of Singapore is that we will empower young people to pursue their zealous dreams for world evangelisation, and if the time hasn't come for them to go out into the field, then to steward those dreams well whether they are in the campuses or the marketplace. In this way, we can steward the call for us to be an Antioch for the next generation."
- Caleb Goh
Caleb is a year 2 student in NUS Law. He completed his DTS with YWAM Furnace New Zealand and has a heart for mobilising young people into cross-cultural missions.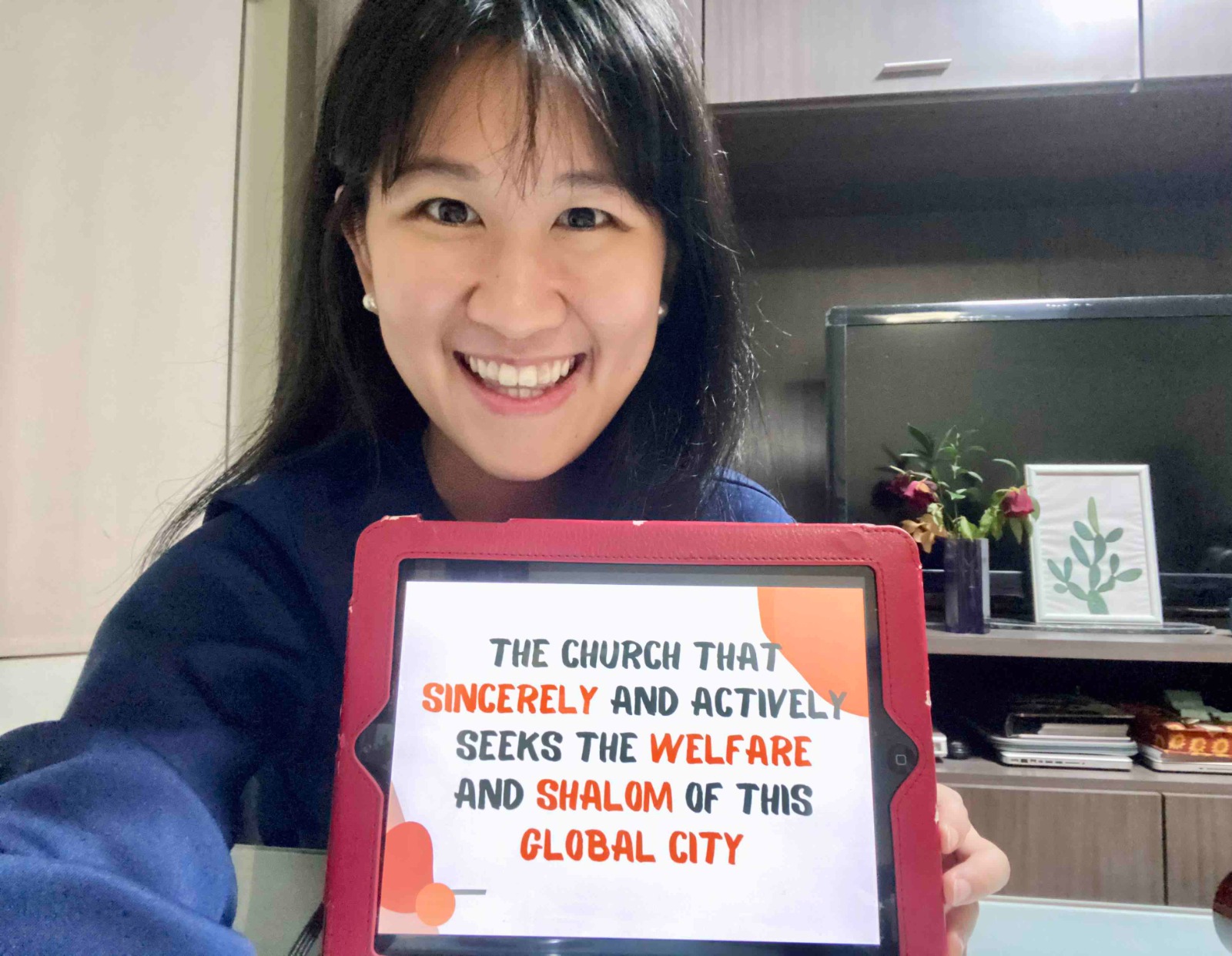 #01
"May we be the Church truly driven by compassion, genuinely interested in and looking after all aspects of the welfare of this present city that is home to a motley mix of beliefs, cultures and nationalities! In and through our households and marriages; our neighbourhoods and communities; in our schools and workplaces; our policies and vocations. May we reveal Christ by being much more than a Church within the praying comfort of our four walls; much more than a Church with excellent cookie-cutter checklists and programmes."
- Joan Alikazin
Joan is staff at Singapore Centre for Global Missions; widening horizons, being prepared and equipped for roles in God's mission wherever He leads.