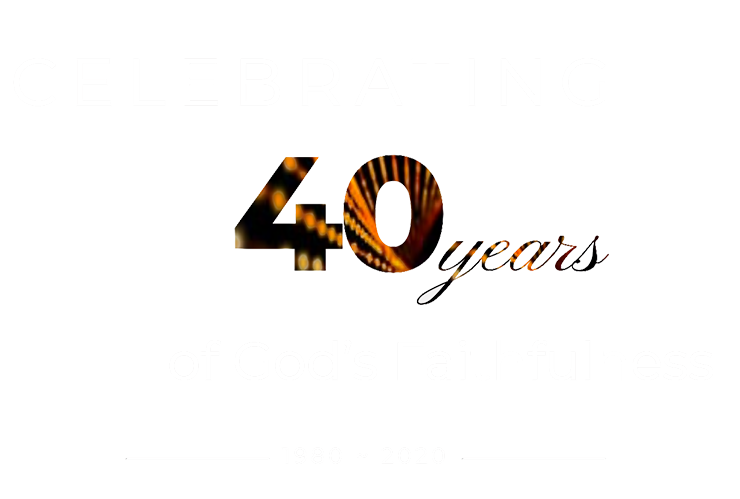 Support Us
in our efforts to raise $400,000!
20 November 2020 - 31 December 2020
40 DAYS OF DEVOTIONAL REFLECTIONS
CHAMPION:
Wong Kron Joo & Lawrence Ko
40 FRiends of SCGM have been invited to take part in our 40-Day Devotional Project to help raise funds for SCGM's 40th Anniversary. Each day starting 20 November 2020 to 31 December 2020, SCGM will publish one devotion written by our 40 FRiends in our FundRaising effort and celebration of God's goodness and provision over the last 40 years!
Through their devotional reflections, we pray that our FRiends of SCGM40 will bless and encourage many to reflect upon God's Presence, Protection, Provision, Purification and Power in Missions.
Support a FRiend of SCGM40 in financial giving today!
$41,270 of $40,000 Raised 103%
Hearts Aflame:
On Fire for God's Missions


The year 2020 began with anxiety for me as a volcano erupted in the Philippines which disrupted our plans for a mission trip in February. By the time we gathered for the Chinese New Year reunion dinner, it was sad news all around as friends in China shared the news of the spread of the coronavirus from Wuhan city. All our plans for travels and projects were shelved as we watched the pandemic grow into a global crisis, from medical to economic and humanitarian crises.
Read More »


1 Kings 18:20-40 showcases the greatest Bible showdown between the prophets of Baal and God's prophet, Elijah. The fiery encounter saw a spectacular, supernatural victory that led to national revival. Disappointment with God leads us, like Elijah, to hide in our cave, isolate and stay distanced from others. It is understandable to feel down, discouraged and depressed as we close a difficult year.
Read More »


The world sometimes seems like such a messy place. Our era is marked by division, derision and discontent. With so many claims to truth in opposition to one another, even amongst those of the faith – what are we to do? How do we stand firm and cling to the God who is the Way, the Truth and the abundant Life in the midst of the chaos and brokenness? 
Read More »


The passage in Luke 5: 1-11 is about Jesus' visitation to Simon Peter and his friends after a night of futile fishing. Jesus then called them to launch out again and there was a great catch. If you have been giving it all in your occupation and yet have encountered futility, get ready for a great catch (fruitfulness), as never before when Jesus comes on the scene. 
Read More »